Sig's P320 X Compact is an extension of the Sig P320 line that we'll cover in our Sig P320 X Compact Review. Sig designed the P320 as a way to compete in the US striker fired market. The Sig P320 actually started out as the Sig 250, which is a hammer-fired double action only pistol. Sig only made the Sig P250 for a couple of years as it was not a commercial success.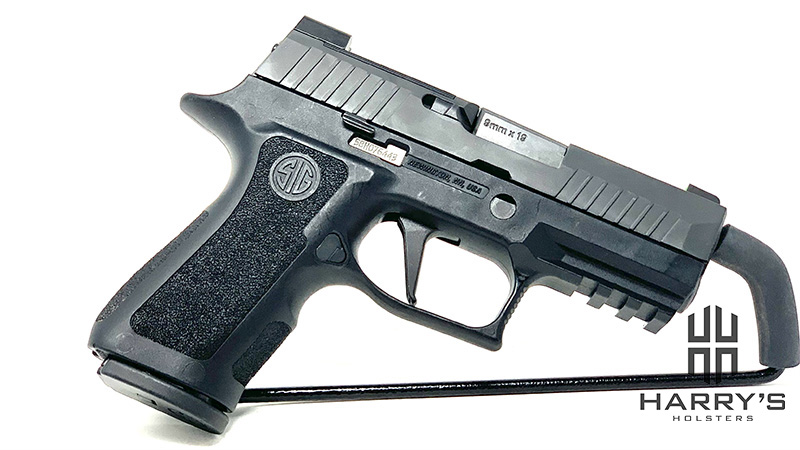 Since the introduction of the Sig P320, Sig has gained a lot of ground in the striker-fired market. Most notably, Sig received the contract for the M17, which is the Army's main service sidearm and other military branches are adopting the M17 as well. The X Compact has a frame that is much different from other Sig P320 offerings.
Sig developed their X line of pistols to be a higher-end more performance-oriented handgun option for the Sig P320 series. They also make an X5 in the P226 series as well. The X grip model is the heart of the Sig P320 X series. Sig designed the grip module to enhance the performance of the Sig P320 series.
Sig P320 X Compacts
New and Pre Owned
Sig P320s In Stock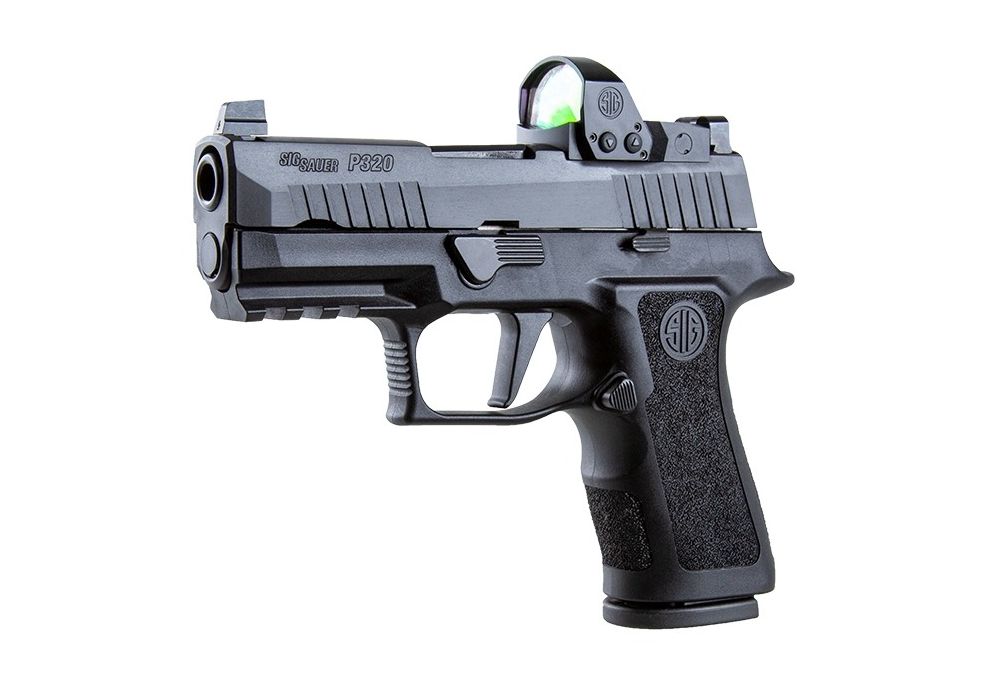 The initial guns to come out where the X5, which is a competition-oriented gun, and the Sig P320 X Carry. The P320 X Carry is a 17-round gun with a four-inch slide. The X Carry became extremely popular, and it was one of the few guns, and its price point initially coming in at around $700. The gun provided a lot of features out of the box, so gun owners did not have to go out and accessorize their gun with aftermarket parts as they did with all the other offerings on the market at that time. The Sig P320 X Compact is the latest in that series of guns.
Table of contents
Features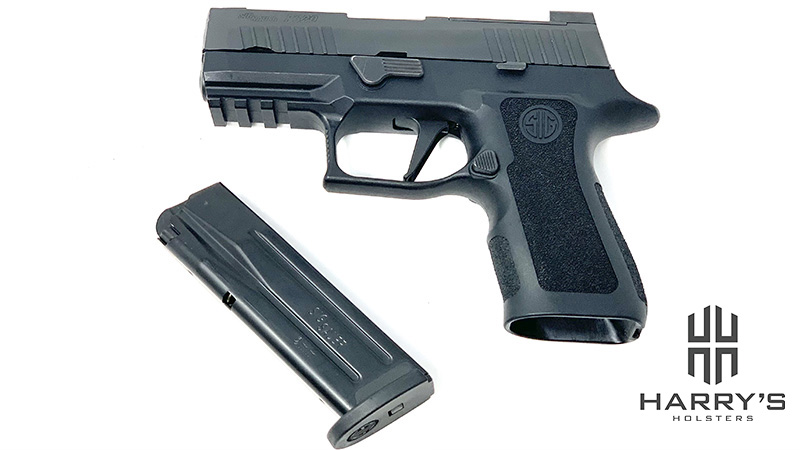 The Sig P320 X Compact holds 15 rounds and uses the same slide as the Sig P320 Subcompact, which has a slide that is slightly shorter than the Carry/Compact length slide of the Sig P320. Now, this gets somewhat confusing. When Sig introduced the P320 series they originally had Compact and Carry variants. The Compact and Carry variants both had the same link slide that used a 3.9-inch barrel.
They also had the Subcompact length slide, which had a 3.6-inch barrel. The Sig X Carry had the Carry length slide with a 3.9-inch barrel. And now the Sig P320 X Compact uses the shorter slide from the Subcompact variant which has the 3.6-inch barrel. Now, from a naming standpoint, this gets quite confusing as Sig has multiple guns that they call Compact, yet they have different slide and barrel links.
From the standpoint of a holster manufacturer, this is something I would like to note right off, I can't stand companies coming out with different sized guns that they give the same name. That said, the difference between the slide and barrel length is so minimal, you're actually better off running the X Compact in a Sig P320 X Carry holster. The extra slide length really helps with comfort and concealment.
Sig P320 X Compacts
New and Pre Owned
Sig P320s In Stock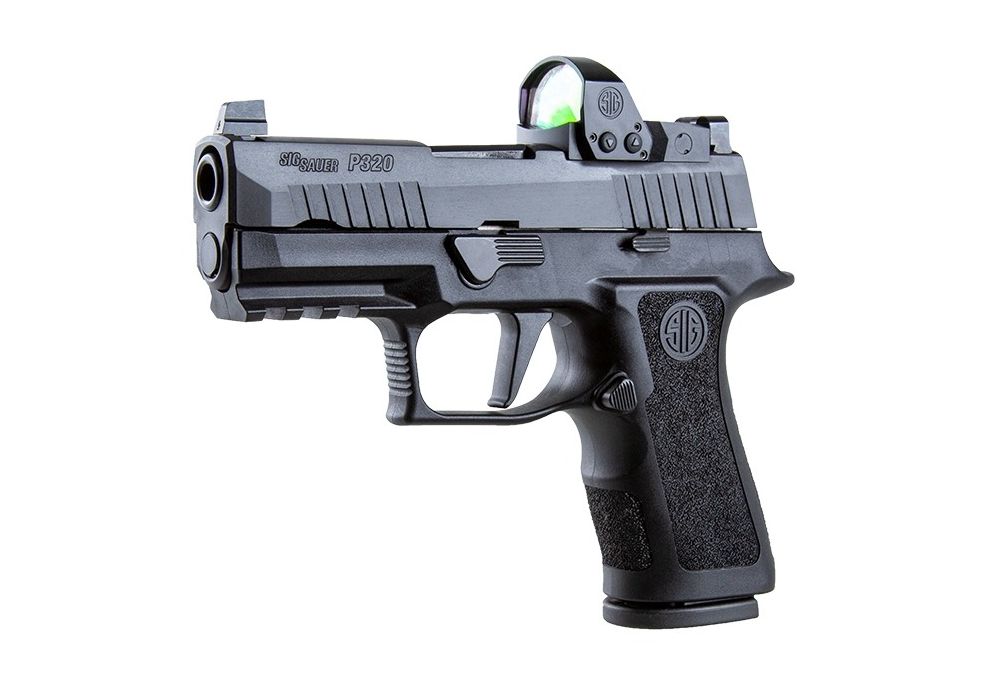 With 15 rounds and flush fit magazines, the Sig P320 X Compact is no slouch in the carry market. The gun overall is sized similar to a Glock 19, although the grip itself from the undercut to the bottom of the grip is slightly shorter. So, if you have larger hands, I would take that into account. You can use pretty much any Sig P320 magazine with the X Compact.
Magazine Well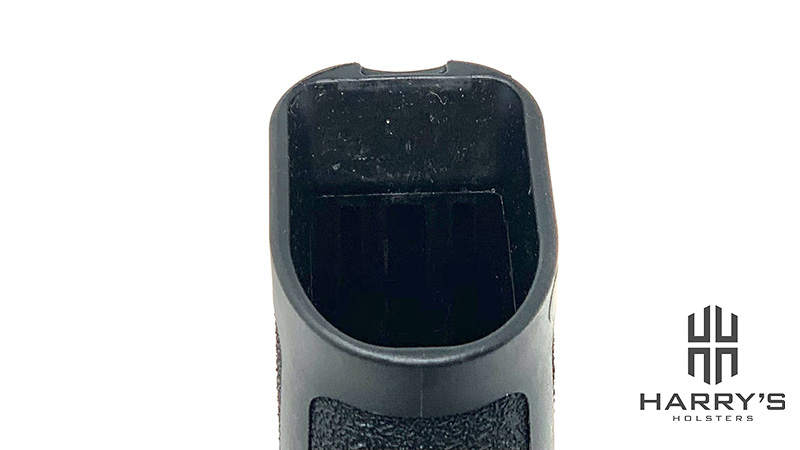 If you're running some older mags, you may have to switch out the baseplates for them to be compatible with the Sig X frame. The Magwell on the Sig P320 X Compact is slightly beveled on the inside. There's not much though as they keep the material on the sides of the frame fairly thick. But, it does do a decent job of helping you insert the magazine on a reload.
Grip/Ergonomics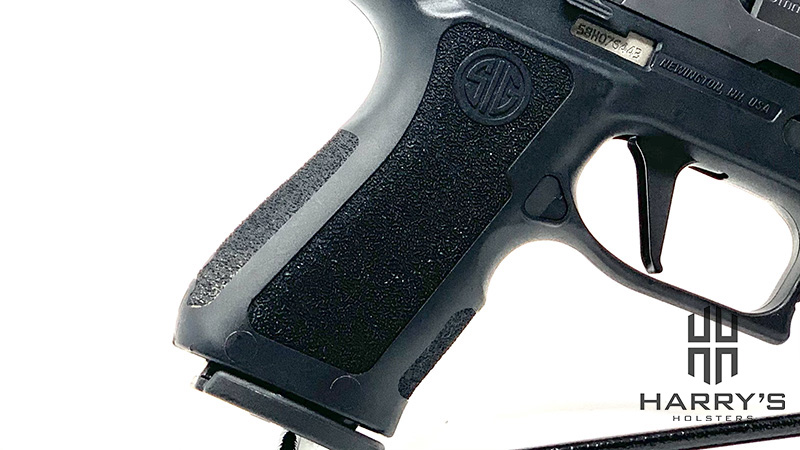 For a double-stack gun, the Sig P320 X Compact has a really small feel and grip. If you have smaller hands, you're probably not going to find an option you'd like better in a double stack gun. The grip itself is a one-piece system so there are no removable backstraps or any customization that can be offered, but you can remove the entire grip and replace it with something else.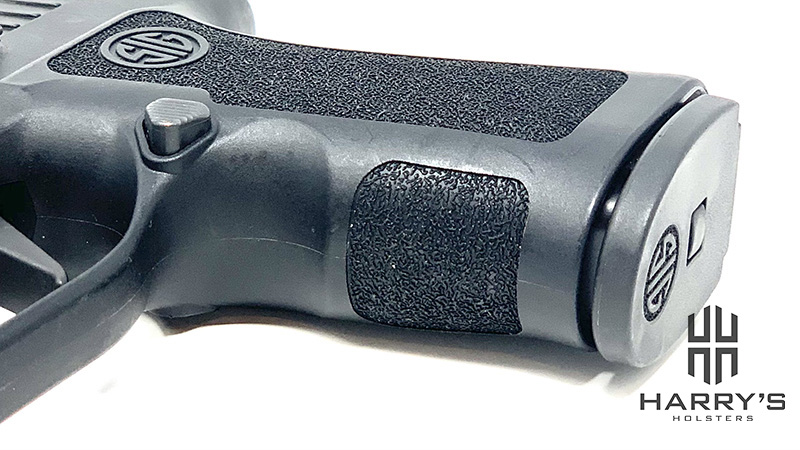 That said, the grip itself is the heart of the gun, at least as it's compared to other Sig P320 series firearms. The grip is the most unique part of this gun. That said, if you don't like it, it would be very easy to replace it with a Sig P320 Subcompact grip, which will have a little bit of a more traditional feel and will be shorter holding only 12 rounds with a flush fit magazine. You could replace it with a Compact or Carry length grip or an X Carry grip, but keep in mind, the front rail of those grip modules will stick out past the length of the slide. That's okay though if you plan to add comp to this gun.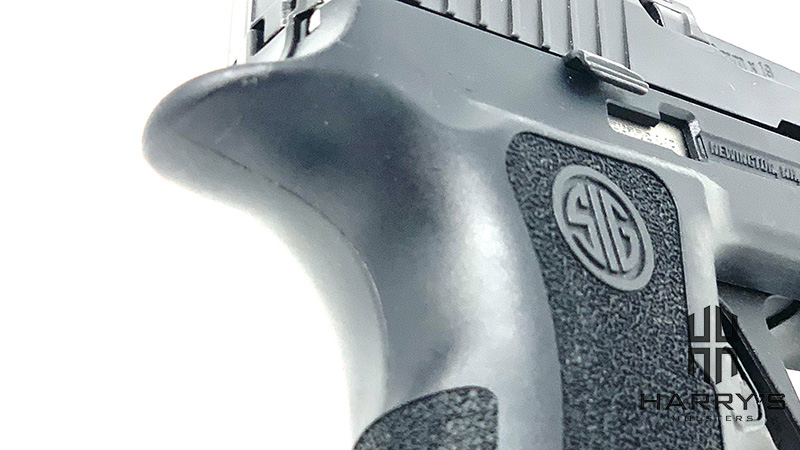 At the heart of the X Compact design is the beavertail. All the X frames have a beavertail and the Sig P320 X Compact is no exception. The beavertail itself is nice and rounded and helps you get your hand decently high up into the tank. For myself, my hands are too large and I can't get quite as much pressure as I would like higher up on the grip just due to the short length of the grip overall.
Texturing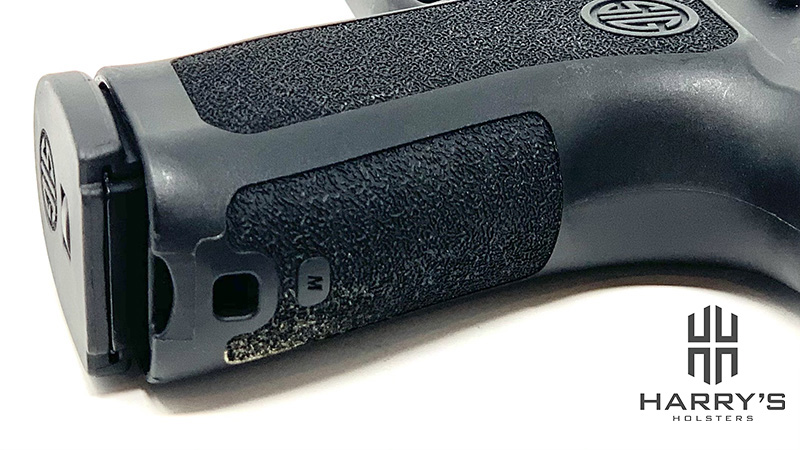 There is standard Sig P320 texturing on the front strap, backstrap, and side panels of the gun. It has a textured like stipple and provides a feeling that's like very soft sandpaper. It works but it's not overly aggressive and I find myself personally wanting a little more texture on the grip. Now when you talk about the overall feel of the grip, this is where things start to go bad for shooters with larger hands.
Sig P320 X Compacts
New and Pre Owned
Sig P320s In Stock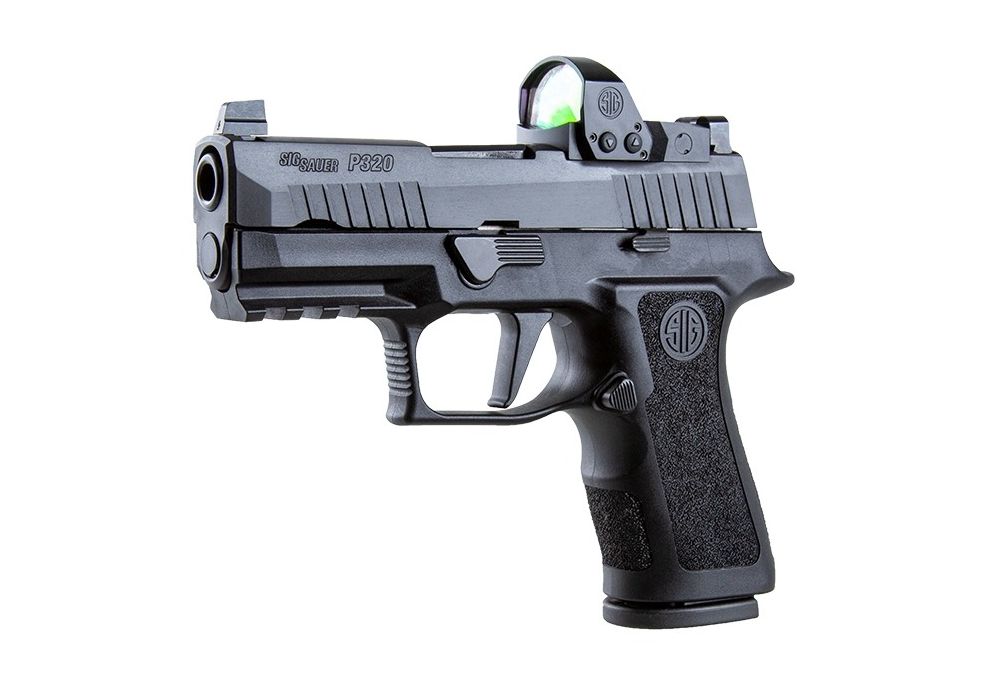 I have medium to larger hands that are average for a 6-foot tall male, and this grip is frankly too small for my hand. My fingers can all get on the gun at the front strap. But, the problem I have with discomfort with the grip is the back right corner pokes into the meaty part of the palm of my hand. Due to this, I would probably suggest somebody that has smaller hands use this gun.
If you have medium to larger size hands, you're not going to want to use this gun, but if you have medium to smaller height size hands, you'll probably find this style of grip perfect. The distance from the front strap to the back strap is around a 10th of an inch less than the other Sig P320 offerings and guns like the Glock 19. This means that there's going to be less circumference for you to get your hand around the grip if you have smaller hands.
I think it's an ideal ergonomic grip for someone with smaller hands, but if you have larger hands, you're probably going to want to check out the Sig P320 X Carry system. Or if you're looking for a gun that's this exact size, you're going to have to go to another manufacturer like Glock or Smith & Wesson.
Sights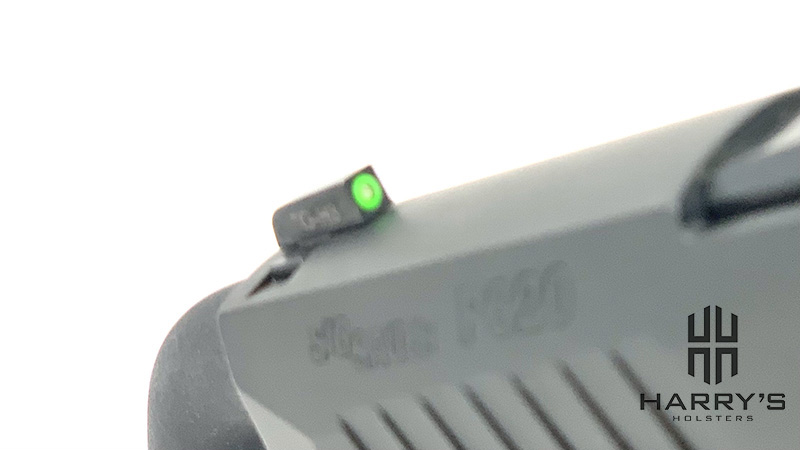 The Sig P320 X Carry comes with a decent set of sights. It comes with SigLite night sights. The SigLite night sights have a semi-bright green ring around a tritium vile and then the rear sights have two tritium vials on each side of a square notch that sits on top of a removable optics plate.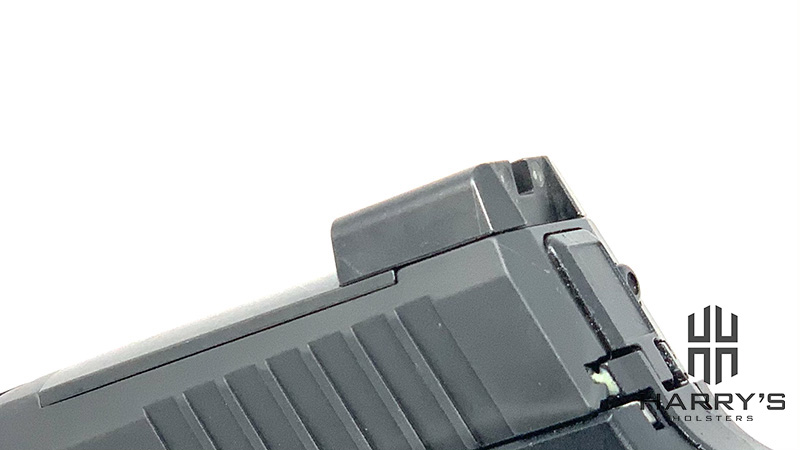 So, if you decide to remove the rear sight on the Sig 320 X Carry, you will have nothing but an optics plate cut there. That means that you cannot replace the rear sight with current aftermarket options because there are no aftermarket options. So, the gun is really designed to run an optic if you aren't running the stock sights.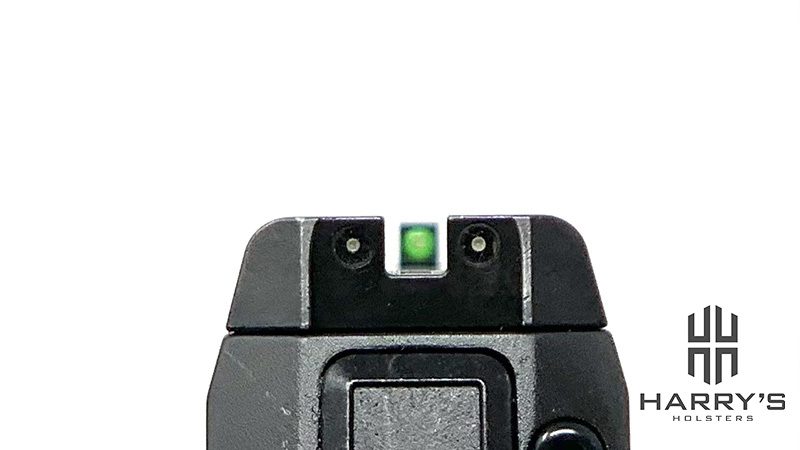 The stock sights on the gun, in my opinion, leave a little bit to be desired, but they're good enough you're likely not going to want to spend the money to replace them if you even could. Obviously, you can't because of the optics mounting plate.
Sig P320 X Compact Optic
This gun is very easy to throw something like a Sig Romeo1 on and take it to the range. That said, you may have to get an adapter plate for whatever optic you want to use as Sig has done a lot of midstream changes in their production guns as it relates to optics mounting cuts. They have a variety of patterns for the Romeo series of optics. And they've changed the mounting pattern on the different Sig P320 guns quite a bit.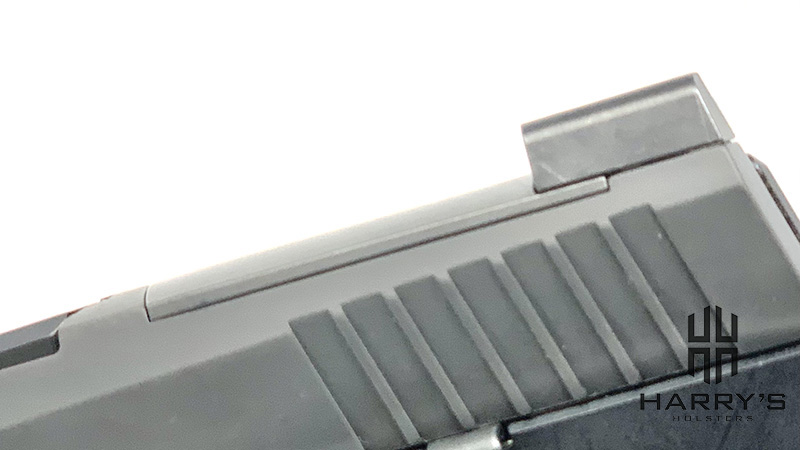 So, I'd be careful to make sure that your gun fits the optic you plan to buy. There are also a variety of aftermarket mounting plates that will allow you to mount optics like Holosun 507c, or the Trijicon RMR.
Controls
Safeties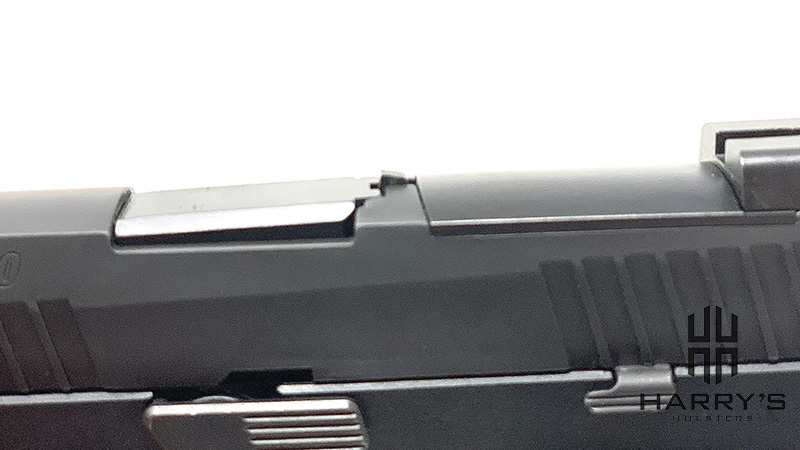 While it's not a safety I will mention the loaded chamber indicator. It's more mechanical than most handguns I've seen and that concerns me as it adds more potential failure points to the gun than other options. When there is a round in the chamber it protrudes from the top of the barrel hood vs the P365 XL that has a notch. There is no external safety whatsoever on the Sig P320 X Compact.
Sig P320 X Compacts
New and Pre Owned
Sig P320s In Stock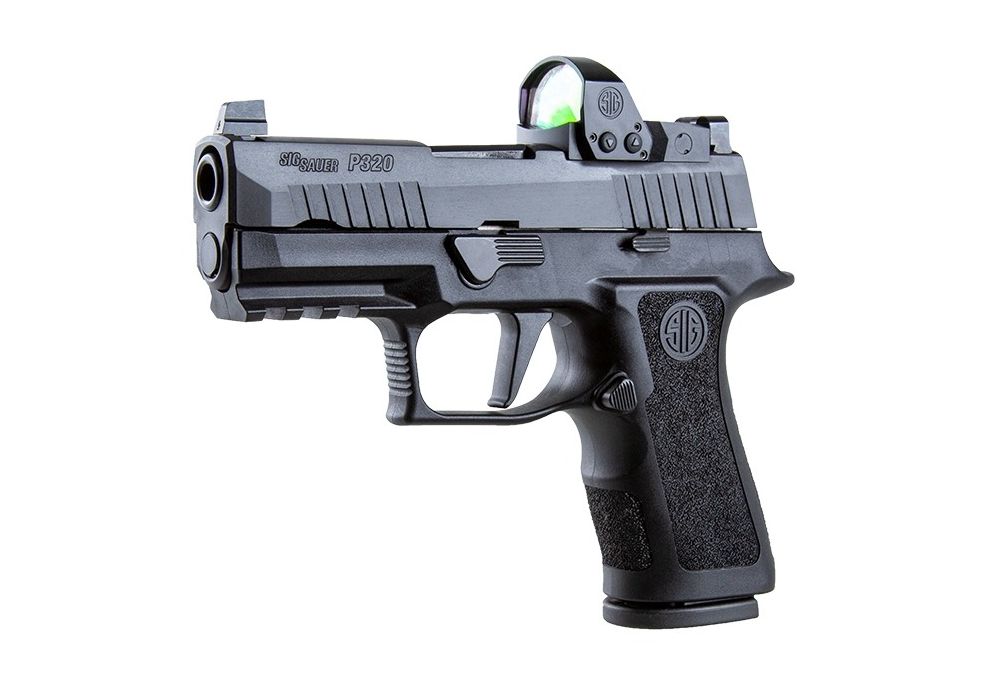 The trigger itself is technically the trigger safety. Sig designed the Sig P320 X Compact so that the trigger shoot is very light and is in theory it acts similar to the "dingus" on a Glock style gun or the hinged safety on a Smith & Wesson M&P or FN 509. Some may feel a little bit wary about using this style of trigger safety. That said, Sig did face a lawsuit over this, so I would hope that they've squared everything away and the gun is drop safe.
Magazine Release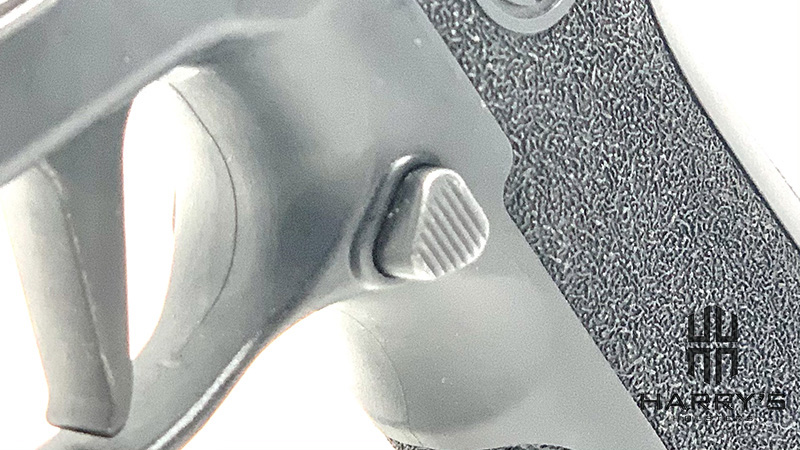 The magazine release on the Sig P320 X Compact is reversible, so it comes set up on the left-hand side of the gun for a right-hand shooter. It's easy for me to reach with my thumb without breaking my grip. That said, I still have to break my grip to drop the magazine because my medium to large size hands sits below the base plate of the magazine itself. This means that the meaty part of my palm of my hand that I was complaining about sits off the edge of the grip and is a little bit uncomfortable stops the magazine from dropping free.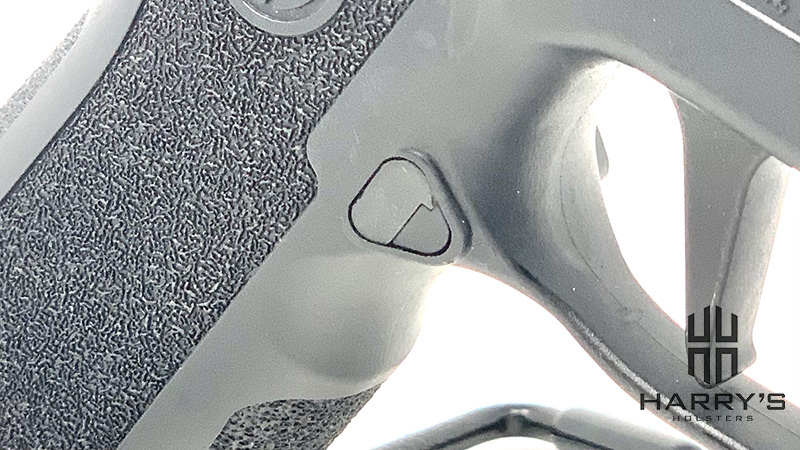 So, if you have those medium to larger size hands and decide to get this gun, keep in mind, you'll have to break your grip to drop the magazine. That said, you have to do that with most modern firearms. So, I don't think it's that big of a deal. The release itself has nice rounded edges and is in a triangle shape. It's comfortable to press and it's a really well-designed magazine release. Not that far extended, but it's not recessed either. It's in that perfect Goldilocks spot, in my opinion.
Slide Stop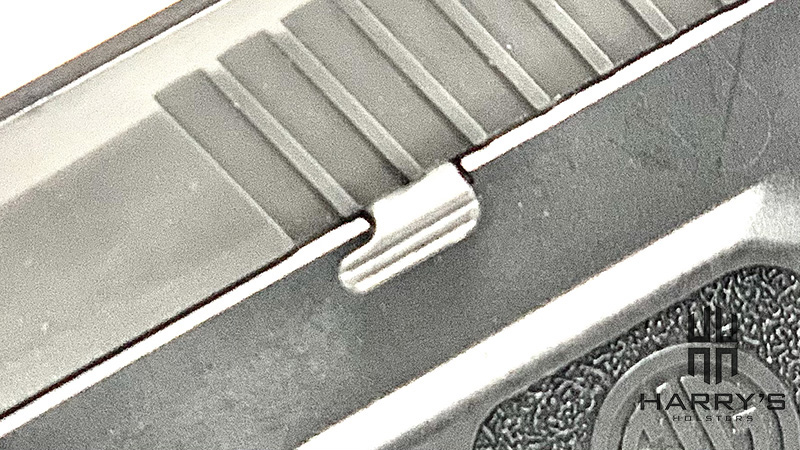 There are ambi slide stops on the Sig P320 X Carry. The slide stops themselves are identical on each side of the gun. The slide stop system grabs a cutout on the left-hand side of the gun. So, if you're a right-handed shooter, you're going to have a little more leverage to drop the slide than a left-handed shooter would.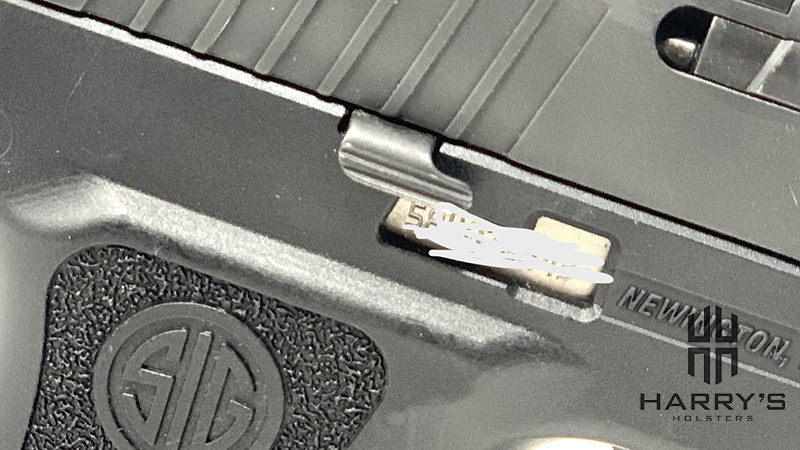 That said, the slide lock/slide release is easy to use for pretty much all shooters out there, whether left-handed or right-handed. It's a well designed low profile and non-obtrusive. I don't see any need to extend them any further. And I think most people will have a positive experience with the Sig P320 X Compact slide release design.
Overall Ergonomics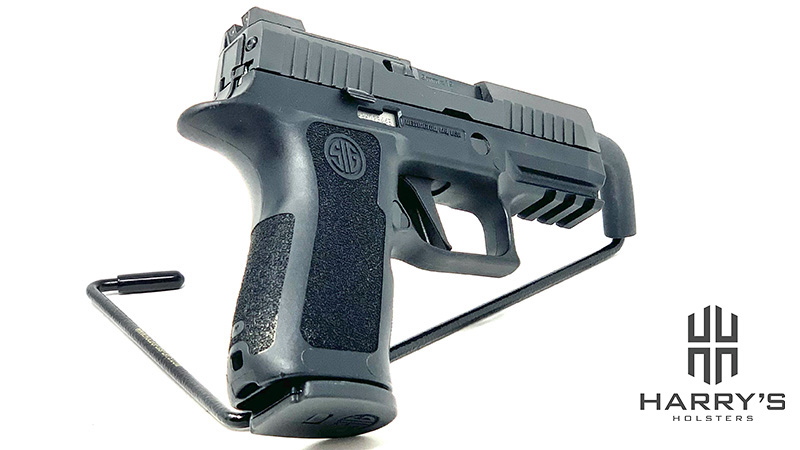 Overall, the ergonomics on the Sig P320 X Compact are going to vary depending on your hand size. If you have medium to smaller size hands, they're going to be great and frankly probably unmatched by any other option out there. But, if your hands are medium to larger size, you're probably going to wish you'd gotten the Sig X Carry with the longer slide or you would go with a different gun altogether.
Sig P320 X Compacts
New and Pre Owned
Sig P320s In Stock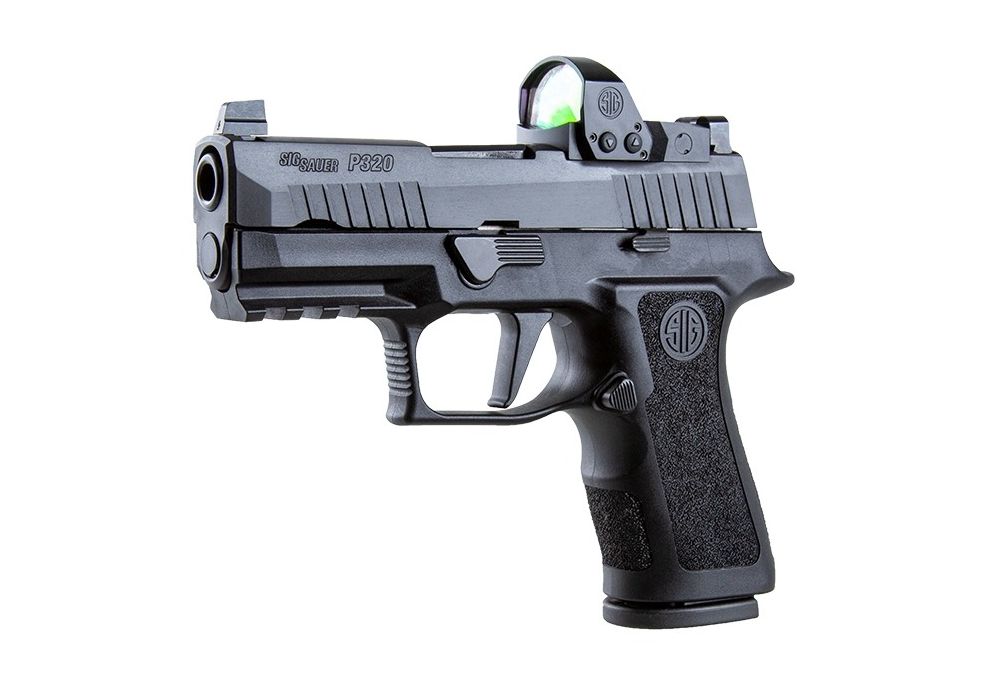 The meaty part of the palm of my hand hanging off the bottom of that grip makes it quite uncomfortable and I just can't get as high of a grip on this gun as I can on other Sig P320 series firearms. Even though the gun is the size of a Glock 19, the high bore axis on this gun means there just isn't as much length for you to get your hand on the lower portion of the gun. That's my biggest gripe with this gun. But, it does make up for that in other ways that we'll get to later.
Trigger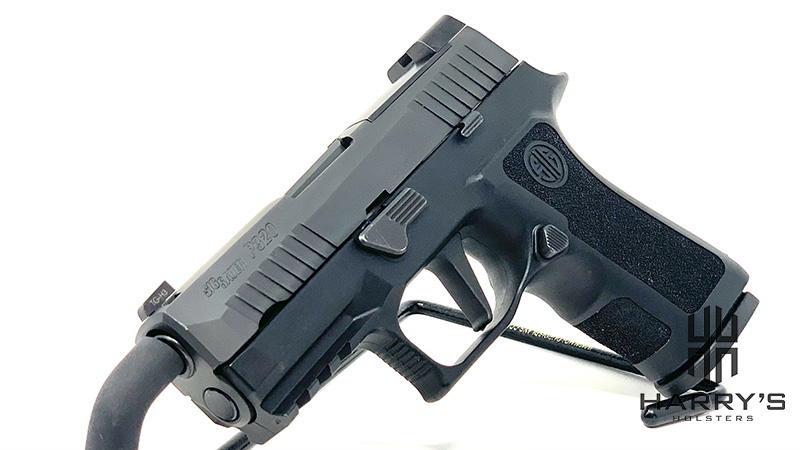 There is a flat trigger that comes on the Sig P320 X Compact. Most Sig P320 X series also comes with a flat trigger. The trigger itself feels good on the pad of your finger, and it's nice and rounded on the edges, but it's squared off as well. I know that probably doesn't make any sense, but when you fill the trigger, you'll get it. Now for the trigger pull itself.
Going to pull the trigger, you immediately hit the trigger shoot, and then you start to feel some take up. The take-up on this gun is extremely short and light and then you feel a wall and once you feel that wall, you start to feel a lot of creep before you eventually hit a break. The distance of the creep is fairly long for a striker fire trigger with the trigger, but the trigger itself sits a little farther forward. Now, from the reset, the Sig P320 X Carry feels kind of odd.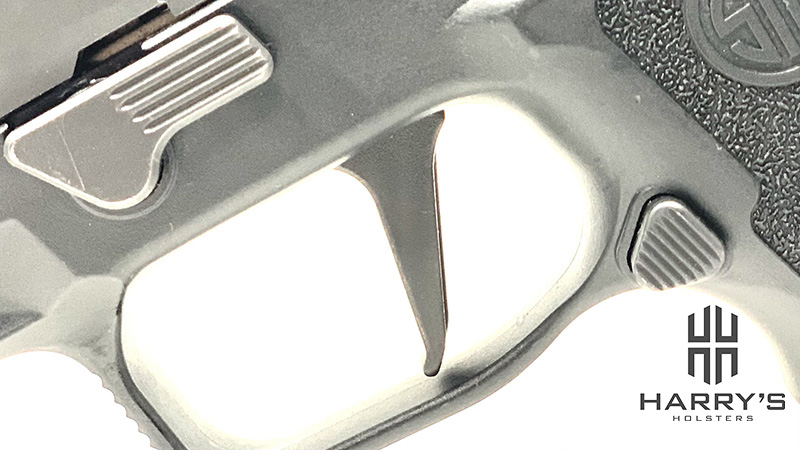 There's really no spring pushing the trigger forward, so you just have to let your finger off. And when you do it does go back to pretty much the initial set point where you have your take up and then you hit that wall again before the creep and the pull of the trigger, so it's a little bit different than most other striker-fired options out there. It's not a bad trigger, but it's not a great trigger.
Sig P320 X Compacts
New and Pre Owned
Sig P320s In Stock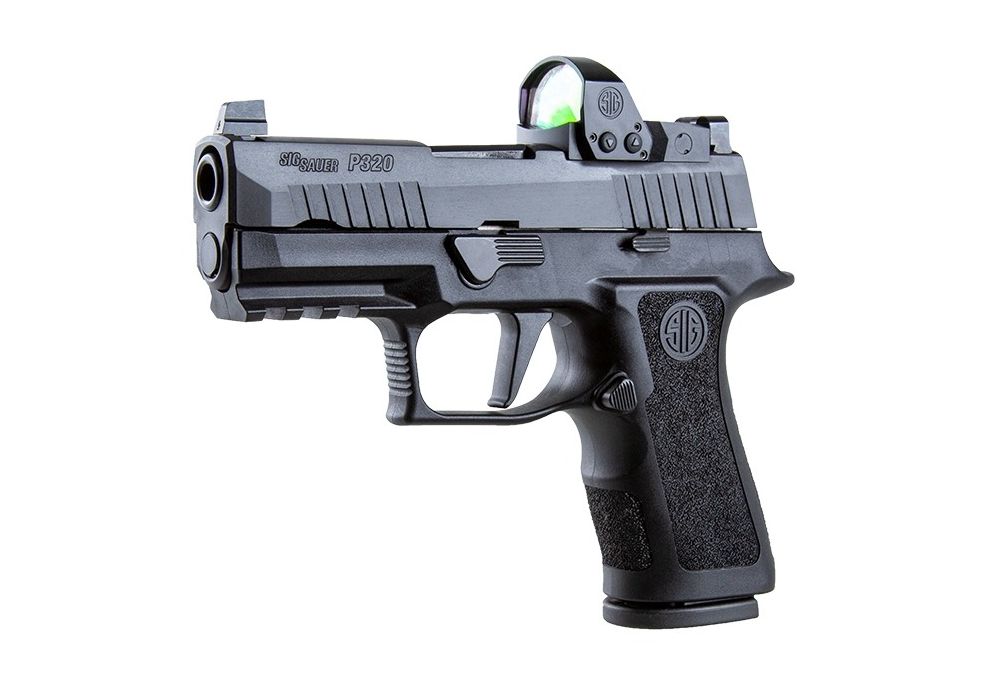 It's a mediocre trigger on par with pretty much every other striker-fired option out there. The trigger shoe, in my opinion, is a nice touch because I like flat-faced triggers. Your mileage may vary on that. There are aftermarket options with the Sig P320 trigger but I know a lot of people have concerns about those being drop safe, so I would fully do your research before purchasing one of those triggers.
Maintenance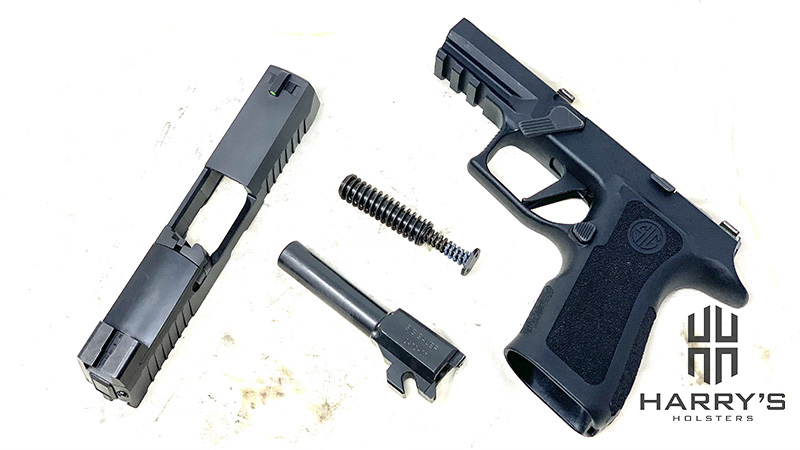 Cleaning the Sig P320 X Carry is pretty easy. There is a takedown lever on the left-hand side of the gun forward of the slide stop. You have to rotate that takedown lever down 90 degrees to disassemble the firearm. When you're rotating the takedown lever the last little bit can be somewhat hard and springy. It gets better as you break in the gun and field strip it multiple times. You can completely disassemble the gun without having to pull the trigger and disengage the striker like most other striker-fired guns on the market.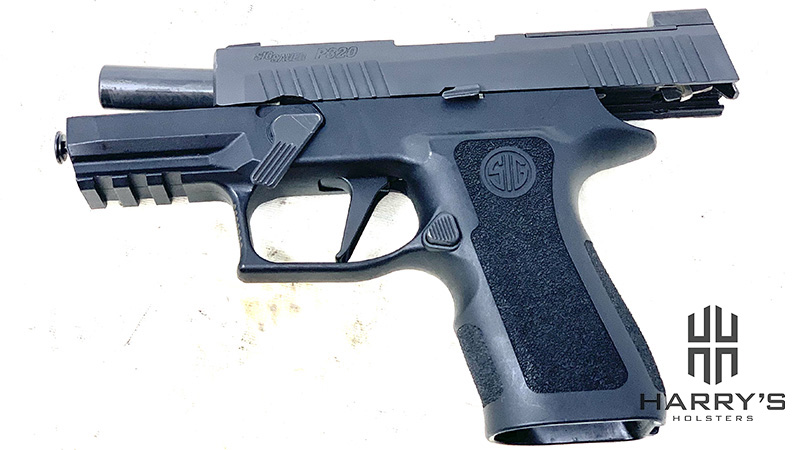 Fieldstrip is easy just like any other gun, and if you want to, you can knock this takedown pin out of the frame and then take out your fire control unit. The Sig P320 does have a very basic fire control unit, which sets it apart from most other guns on the market, making it extremely easy to take down and work on.
Aesthetics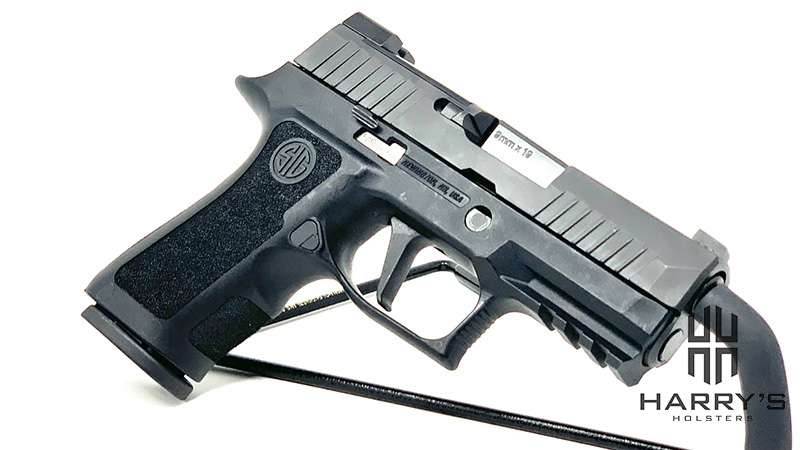 The overall aesthetics of the Sig P320 X Compact are quite good in my opinion, it all comes down to personal taste, but the gun has nice forward serrations on the front that add a nice touch aesthetically, and the grip itself seems well balanced in proportion. I personally would have liked to have seen them gone with a 3.9-inch slide from a functional standpoint. But, choosing the 3.6-inch barrel instead really makes sense from a proportionality standpoint and the look of the gun.
Shooting
Shooting the Sig P320 X Compact is frankly amazing. The gun has a little more muzzle flip than other options, but it tracks really well and the recoil impulse is quite light and soft. So, for new shooters, if their hand fits this gun quite well, they're going to love it. Shooting this gun one-handed is no challenge whatsoever, whereas most guns are.
Sig P320 X Compacts
New and Pre Owned
Sig P320s In Stock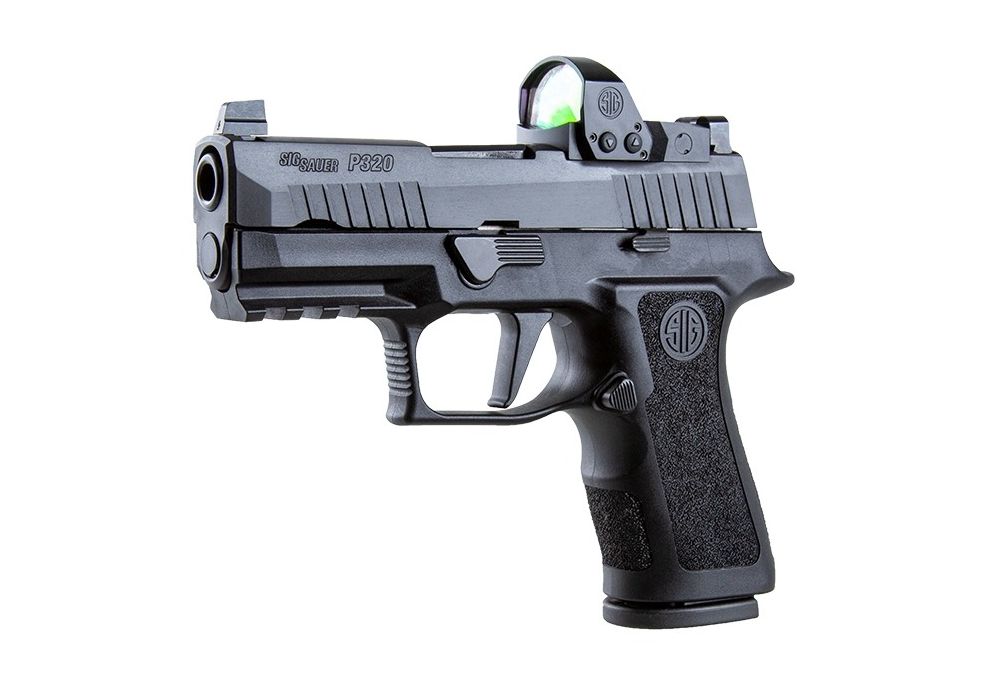 It just works really well for that. And that's a good measure of how easy this gun is to shoot. So, when you shoot it two-handed, you'll fall in love. I'm personally a big fan of the way the Sig P320 X series shoots and this gun is no exception. Again, if you have smaller hands, you're probably going to have a hard time finding a better gun than this.
Related Articles
FAQs