Sig P320 X Carry Holster
Even though the Sig P320 X Carry is designed as a concealed carry firearm, the gun can also be used in a duty holster or an OWB competition holster. When choosing your Sig P320 X Carry holster, it's very important that you decide what role you want the gun to fit for you at least when you're using that particular Sig P320 X Carry holster.
When shopping for Sig P320 X Carry holsters one thing to take into account is the role you plan to fill with that exact holster. For example, if you're choosing a holster for appendix carry, it's obviously going to be different than a holster you might choose to carry concealed at four o'clock or even more different from a holster you might run in a USPSA Carry Optics competition or a duty holster a law enforcement officer may use. We'll go over all the different options here.
Sig P320 X Carry Appendix Carry Holster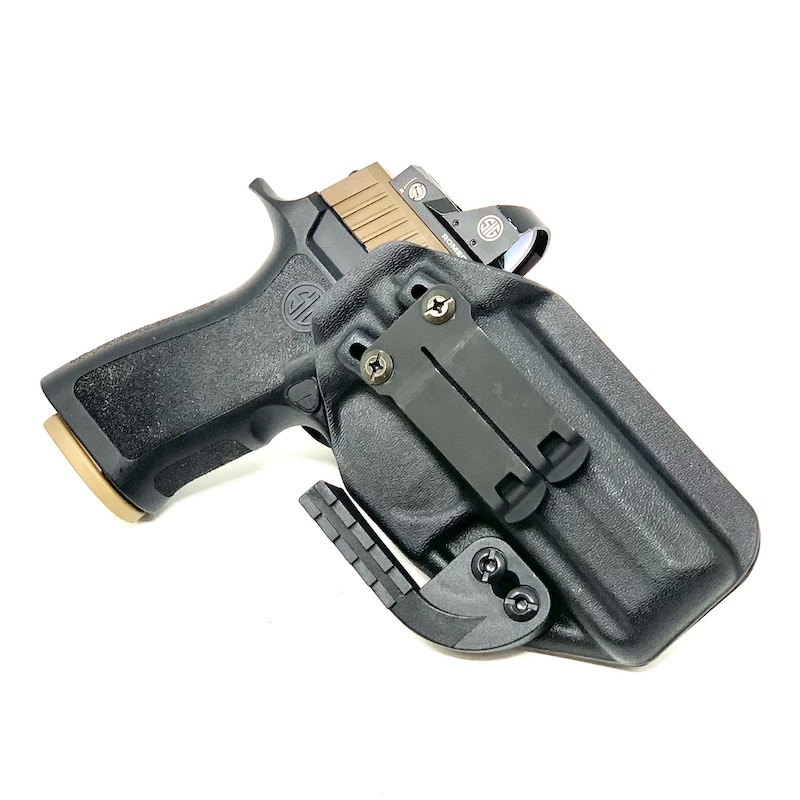 Choosing an Appendix Carry holster for the Sig P320 X Carry comfort is probably going to be your most important item. You want to choose a holster that has a lot of nice well-rounded edges, like our Singleton holster. The Singleton Sig P320 X Carry holster is designed to be a very comfortable appendix and not jab into your inner thigh like most appendix carry holsters.
The muzzle of the holster is also very well rounded, so you don't have to worry about the holster jabbing if you decide to carry at appendix or if you decide to switch the holster to the four o'clock position. Another important factor to look for is what type of clip the holster uses. For example, our Singleton holster uses the discreet carry concepts monoblock. The advantage of using a discreet carry concepts clip is these clips will hold to clothing without wearing a belt, making your firearm a lot more secure.
The clip is also spring steel, so it's much thinner than plastic options, meaning the clip itself is less likely to print through your clothing. A clip like the discreet carry concepts monoblock is the perfect feature to look for in a Sig P320 X Carry concealed carry holster. When carrying appendix you're likely going to print if you do not have some sort of claw or weight on the holster, so we suggest adding the dark wing to the holster as it will help reduce printing.
The dark wing will tuck the grip of the Sig P320 X Carry into the body so it's not sticking out through your shirt or other cover garments. It will increase comfort and also add a little bit of concealment we suggest adding a wedge to the back of the holster.
The wedge will help counteract the gun wanting to tip out away from the body over the belt if your belly is pushing the gun in that direction. And the gun also tends to want to fall away from the body just due to gravity. The body is pushing the gun forward while the weight of the loaded magazine and the top of the slide is wanting to push the gun out away from the body. So, a wedge really helps that.
Sig P320 X Carry IWB Holster Strongside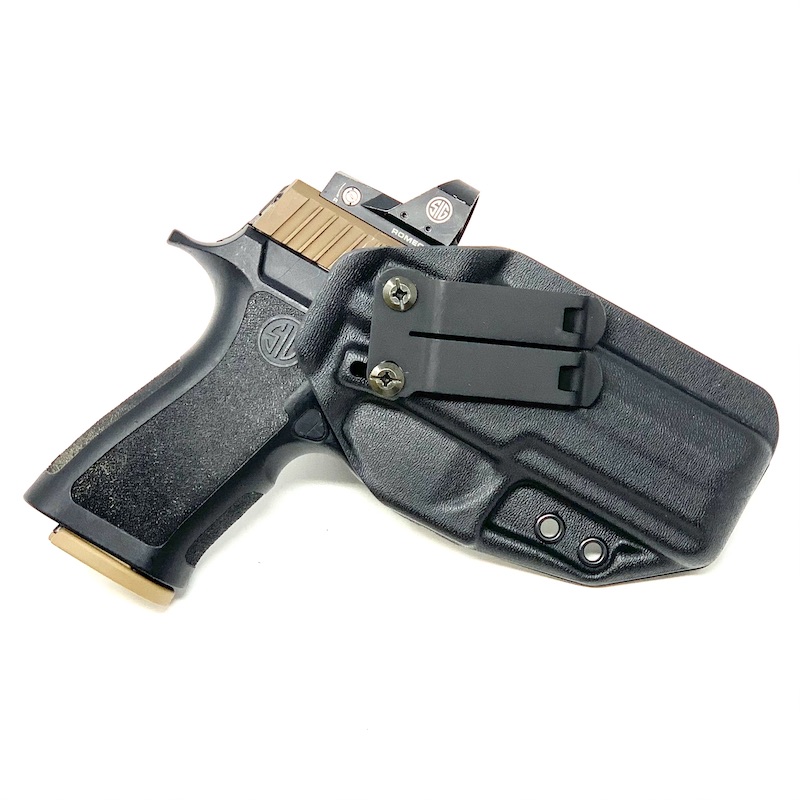 Choosing a holster you carry the four o'clock or behind the hip, you don't have to be as picky as you do at appendix. Generally, you'll get concealment from the cant of the holster so you're looking for a holster that has adjustable cant, that allows you to dial in where the grip sits on your back, so that aligns nicely with your body keeping the gun as tight as possible.
Another feature you'll want to look for comfort-wise is something with a rounded muzzle, so the gun is not poking into your butt but instead has a nice chamfered or filleted angle on the holster that can lay gently against your rear end.
Sig P320 X Carry OWB Holster
For a Sig P320 X Carry holster for competition, you'll want something like our contender. The contender is a competition and range centric holster that is designed to meet the perfect balance of speed and security. If you're running your Sig P320 X Carry holster on a battle belt, I would suggest running something like our X-Lock as the belt attachment method.
The X-Lock is extremely secure and you can still get it on and off the belt if you need to. For competition, I would suggest running the X-Lock or the turbodrop. The turbodrop is a very competition-oriented product and you will need to have a competition-specific belt to run the turbodrop.
So, keep that in mind. Most people will be best suited with the X-Lock and if you're just looking for a Sig P320 X Carry holster that is quick to get on and off at the range, then I would definitely suggest adding a paddle to the Sig P320 X Carry holster. A paddle holster is a great option for those that want something that's quick to get on and off while using the gun at the range.
Sig P320 X Carry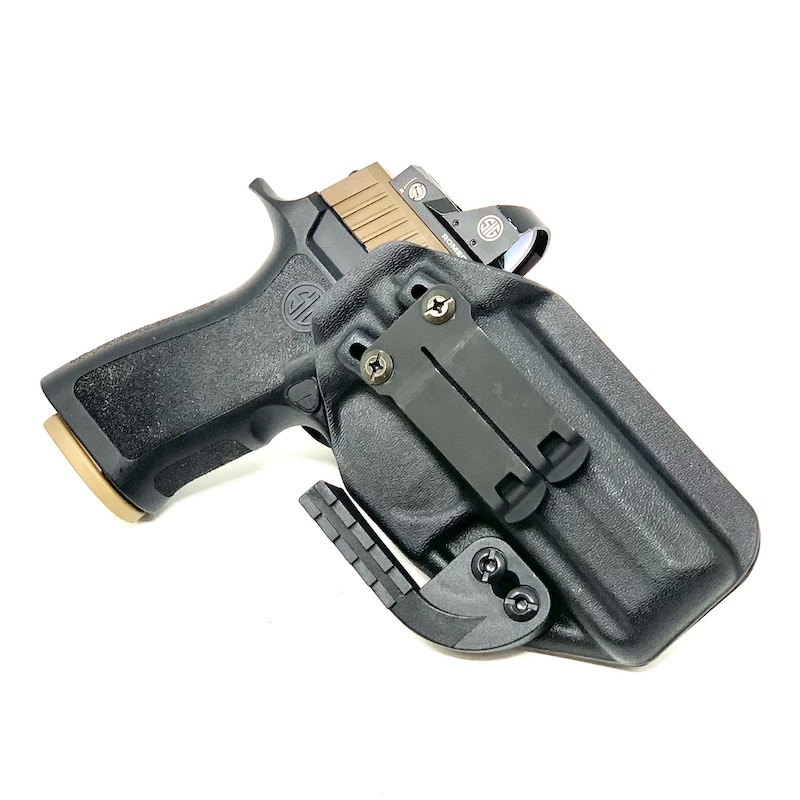 ACTION: Striker Semiauto
CALIBER: 9mm Luger
MAGAZINE CAPACITY: 17+1
BARREL: 3.9 in.
OAL/HEIGHT/WIDTH: 7.2/5.5/1.3 in.
WEIGHT: 28.1 oz.
CONSTRUCTION: Black-Nitride steel slide, Polymer frame
SIGHTS: Steel; Siglite Night Sights
TRIGGER: Striker
PRICE: Unknown
MANUFACTURER: Sig Sauer