Overview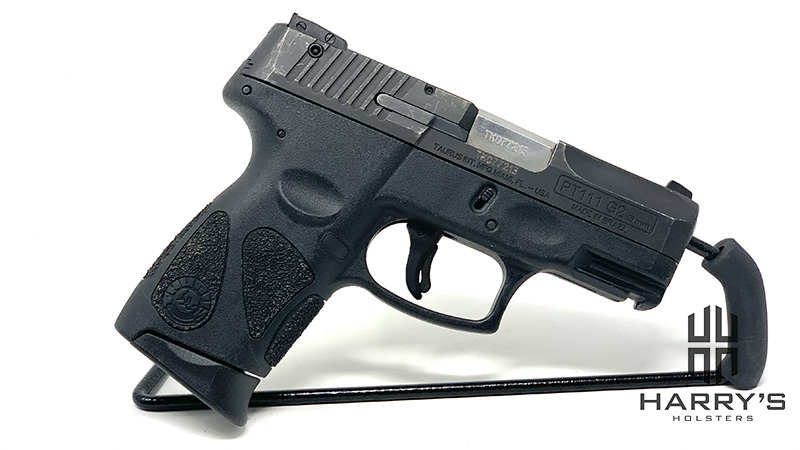 Taurus is a company known for its budget offerings and the Taurus Millennium G2 is no exception. The Taurus Millennium G2 also known as the Taurus G2C is a staple of the Brazilian company Taurus. The gun is made in Brazil and imported through Taurus's Miami division. This gun is very popular in the US market due to its price point. The Millennium G2c comes in at under 250 dollars in most shops.
Most of the budget offerings on the US market were from High Point and the Ring of Fire companies which are literally pot metal guns and in High Point's case a gun that is way overbuilt in terms of size so substandard material can be used. Taurus offered a gun more similar to say Glocks and XDs at a much cheaper price point that American consumers found more affordable. So, they offered an in-between option between the high points and guns like the Glocks, the XD's, Smith and Wesson M&Ps, etc.
The gun was introduced in 2013 and was designed to be marketed towards concealed carriers and law enforcement officers looking for an affordable backup weapon to carry off duty. People absolutely love the millennium G2C for its size. There are people that have guns that cost much more than those, but they still love the G2c.
Features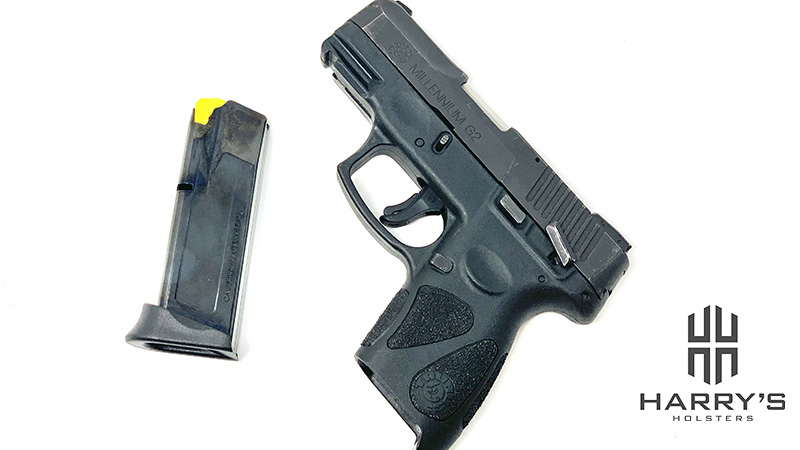 The Taurus millennium G2C is a 12-round handgun it also ships with 10 round magazines and more restrictive states but the gun itself is in a weird size category. Similar to the Smith and Wesson M&PC with the 3.5-inch barrel that was originally introduced. Now Smith and Wesson also have a similar version in their 2.0 series the millennium G2C is sized between something like a Glock 26 and a Glock 19. Even CZ is getting into the game with the CZ P10S.
The magazines themselves are fairly affordable at around the $25 price point and have a nice yellow follower that's very easy to see. They're a blued finish and they drop free from the gun incredibly well. You can actually turn the gun parallel and then tip it up slightly and the empty magazines will still shoot out of the gun. It is really quite impressive. The magazines do not have a flush back base pad, but instead, they have a pinky extension that allows you to get all three fingers from your pinky up to your middle finger on the grip of the gun.
The pinky extension makes the grip of the gun roughly the same size as a Glock 19. It would be nice to see it as an actual extension to get an extra round or two versus just a pinky extension. Promag makes longer magazines for the gun that are extended that hold more ammo if you want but reliability might be dubious, as Promag does not have the best reputation.
Taurus makes 15 and 17 round magazines for their Taurus G3 and those will fit and work in the Taurus millennium G2C. But don't expect them not to over insert as there is no mag sleeve available this time so be wary of that.
Magwell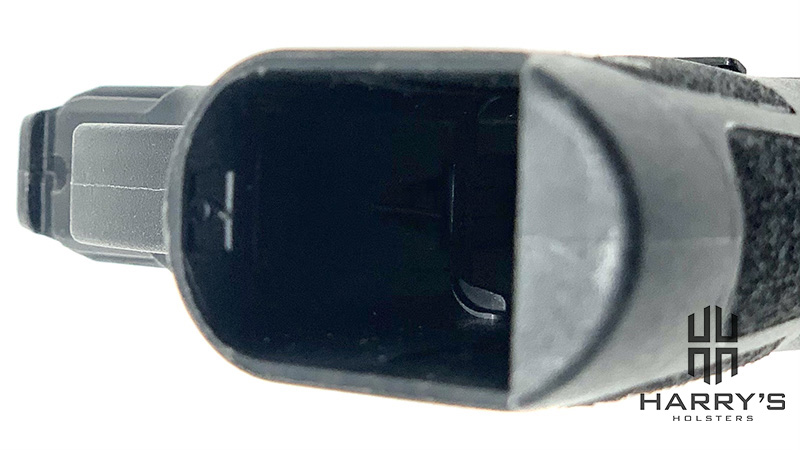 The magwell itself is pretty standard for a pistol mag and you really can't expect anything more from a gun at this price point. The walls of the grip itself are pretty thin which makes the grip feel very thin and good in the hand. But the downside of that is there's not enough material to chamfer on the interior of the mag well to help you guide in the magazine.
But this is a concealed carry gun that is very unlikely to be reloaded under stress. How many people actually carry a spare mag with them where they can easily get to it or even if they use it as a home defense gun do, they have a setup to where they can reload or access a mag very quickly? The answer is likely no- making the mag well a non-issue on this gun.
If you're proficient with reloading the gun it won't cause you any issues but it's not as good as saying something like a Glock gen 5 MOS that has a very large flared mag well.
Ergonomics/Grip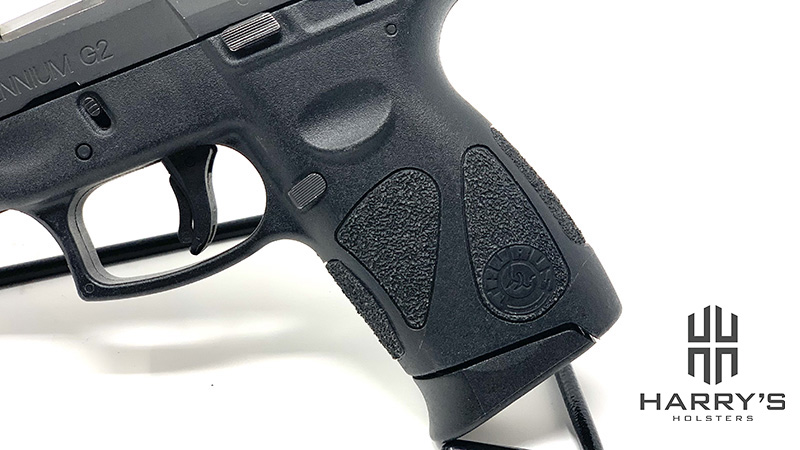 Ergonomically the Taurus G2C feels great in the hands. This gun is really just an amazing size and considering when it was introduced in 2013 it was really ahead of its time. The only other offerings that were really available then were the Glock 26 and the Glock 19 as well as the M&P series and the Glock was a chunky awkward feeling gun.
The Taurus is that perfect goldilocks size for a lot of people. The thicker grip over something, like a single stack Smith and Wesson Shield, gives you a little more feeling of confidence than a single stack would. Holding 12 rounds in the magazine doesn't hurt either. While the gun is just thin enough that you feel like you have complete control over it.
I was surprised to hear that the Taurus G2C sales were hurt quite a bit when Sig introduced the Sig p365 which cost more than twice as much as the Taurus. But what they told me it came down to is ergonomically people just felt really comfortable with the Taurus G2C and a lot of people were buying that gun, not because of its price point but because they really felt it was the ultimate size they were looking for.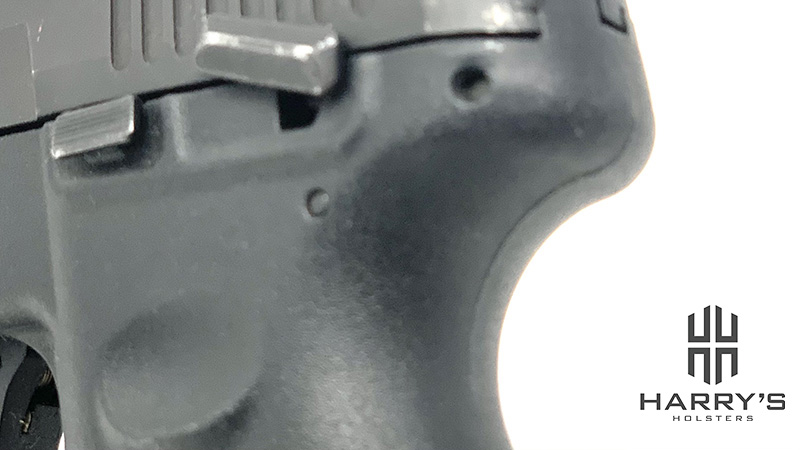 The gun has a nice well-rounded beaver tail that'll work quite well with multiple hand sizes; the grip itself doesn't really do anything ergonomically to drive your hand high in the grip, mostly due to the position of the undercut of the trigger guard. It's not that well undercut, so you will get Glock knuckle if you shoot this gun a lot.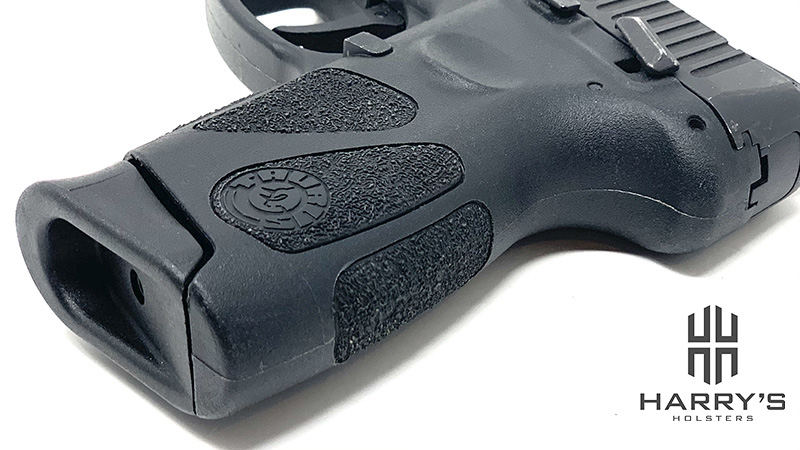 Now the texturing on the G2C is actually quite good. It has a stippled texturing that is an almost artistic non-geometric shape format around the grip. So, it grips your hand in all the right places except for the area where the palm of your support hand fits on the gun. There it is no texturing and it's extremely slick. There's a little groove in that area that allows it to make it easier for you to press the magazine release relieving some of the material there. But it looks like a natural place where a new shooter might put their thumb and that can cause some issues that we'll cover later on.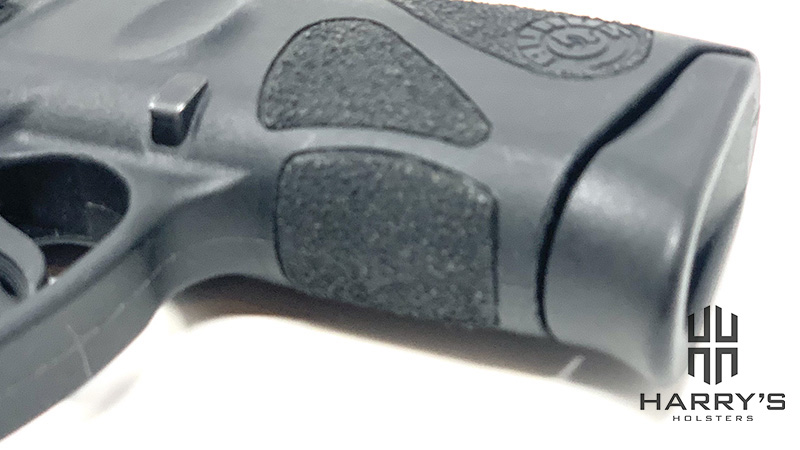 The general feeling of the gun is really good. It makes you feel quite secure holding it. You feel like this is a gun that you can shoot well and that it will take care of you as long as you do the right things with it.
Sights
The Taurus G2c has standard three-dot style sights that are plastic. That's a major downside in this gun because given the price point of it most aftermarket sights are usually around the $100 mark. And there aren't really any competitive options that I'm aware of for adding aftermarket sights to this gun, so if you buy a 200-to-250-dollar gun you don't want to have to spend another hundred dollars upgrading the sights. But the sights it has on it are frankly at the very bottom tier of what I would hope.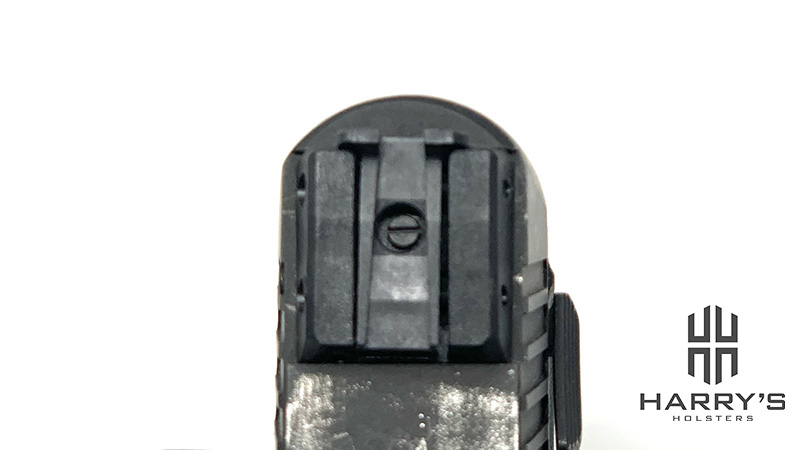 The sight picture is not great and the rear is adjustable for both windage and elevation which seems kind of crazy for me on a gun like this. I would much rather have just basic steel sights on it that promise to work well when you need them. In theory, somebody could have this gun milled for a red dot. Although the cost of milling it would probably exceed the cost of the gun itself. The gun has a loaded chamber indicator that would create a hazard when trying to mill the gun for an optic.
Controls
Safety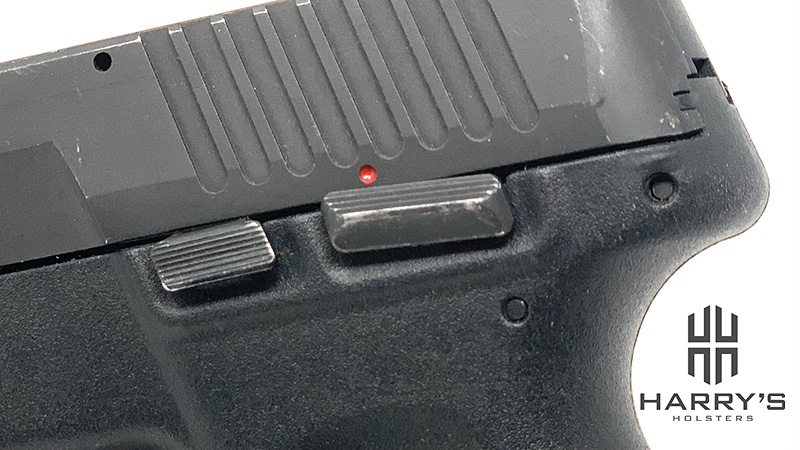 Now when you start talking about the controls of the gun themselves you first have the thumb safety now the thumb safety is only set up for it's on the left side of the gun. So, it's only set up for a right-handed shooter. It's positioned somewhat similar to where a 1911 safety would be on the frame of the gun and you press it down to disengage it.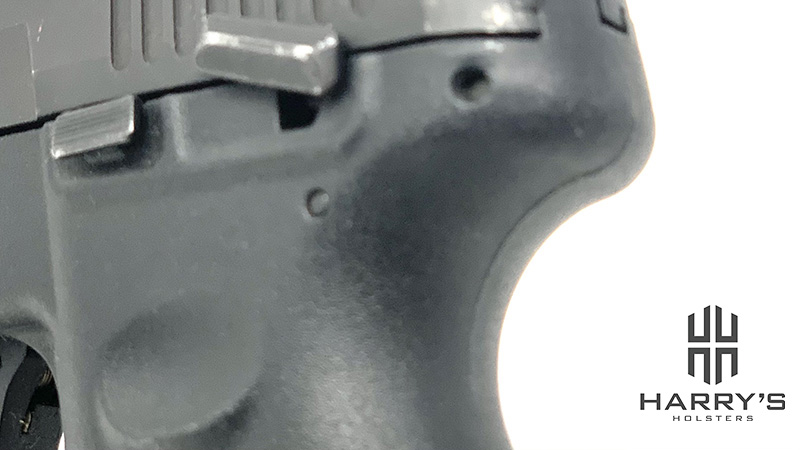 So, it's very ergonomic and easy to use and you can ride your thumb on the safety if you, so wish which is what I would suggest. The safety itself is very thin, so there's not a whole lot of room to grab onto. But as long as you train to use it you're not going to have any issues activating that safety.
Magazine Release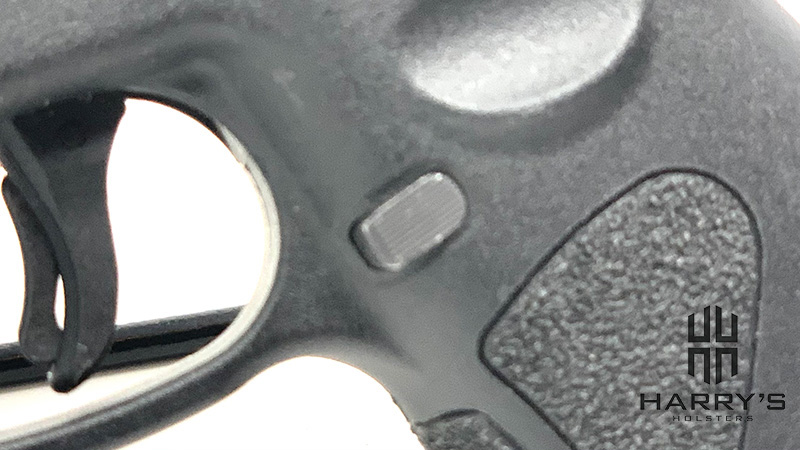 Now, as far as the Taurus G2c magazine release with my hands I can easily reach it without breaking the grip. But I think anybody that had smaller hands than me would have an issue. For reference, I'm six foot tall and have average size hands for somebody of that height.
Slide Stop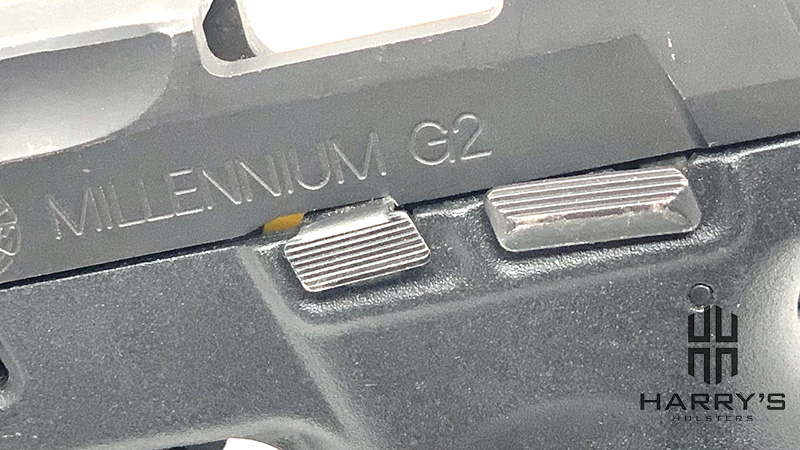 Taking a look at the slide stop and the slide release it's also located only on the left side of the gun, so it's set up for a right-handed shooter. And it's a position where you can reach it with your thumb and easily drop the slide even with the safety being behind. The safety does not get in the way of you being able to drop the slide.
Now if you want to drop the slide with your shooting finger if you're a left-handed shooter the slide release is not far enough forward for you to access it. So, you're going to have to run the slide manually.
CZ Shadow 2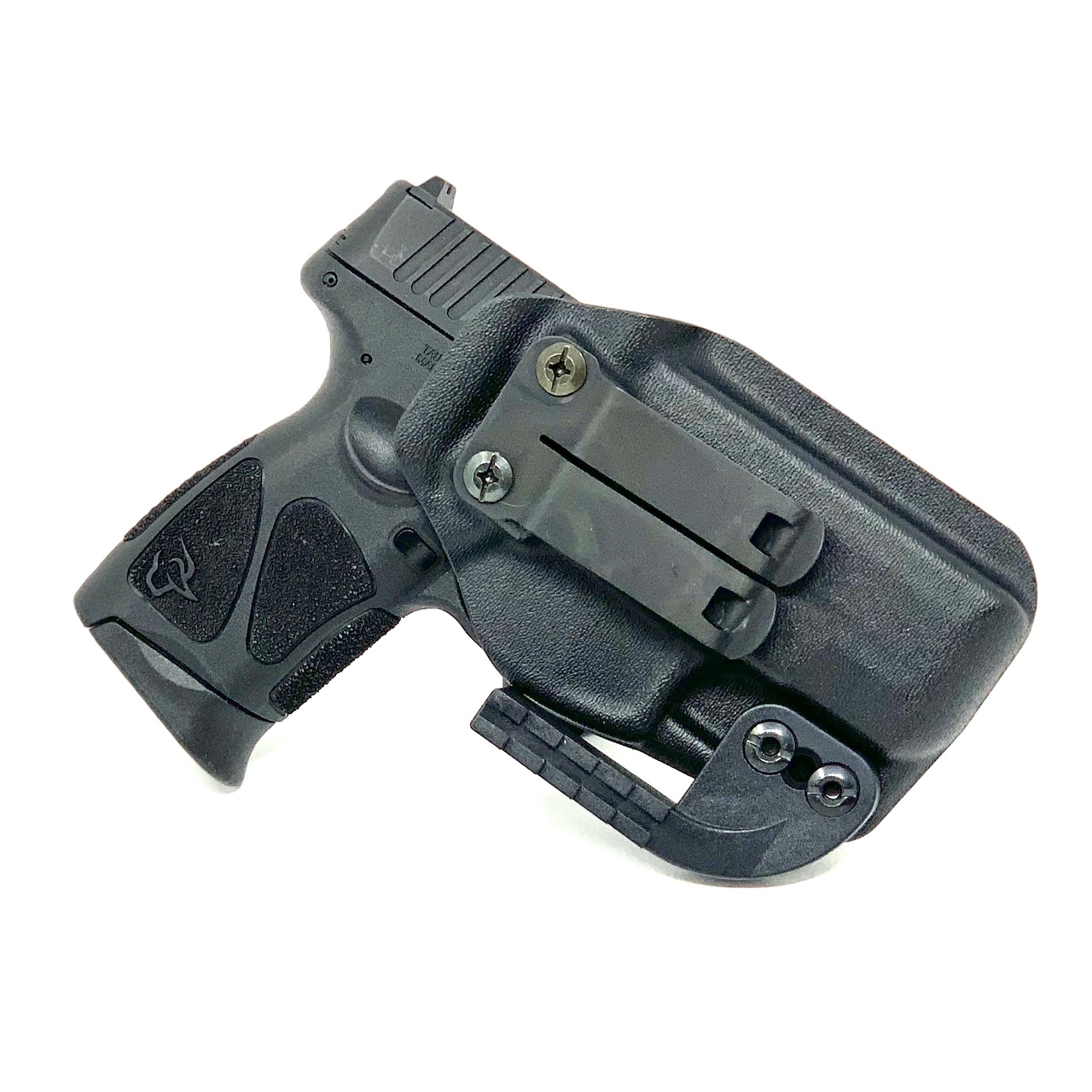 ACTION: Semiauto
CALIBER: 9mm Luger
MAGAZINE CAPACITY: 12+1
BARREL: 3.2 in.
OAL/HEIGHT/WIDTH: 6.3/5.2/1.2 in.
WEIGHT: 22 oz.
CONSTRUCTION: Steel slide, Polymer frame
SIGHTS: Plastic 3 Dot Slights with Adjustable Rear
TRIGGER: Striker with restrike capability
SAFETIES: Manual thumb
PRICE: $346.42
MANUFACTURER: Taurus USA
Overall Ergonomics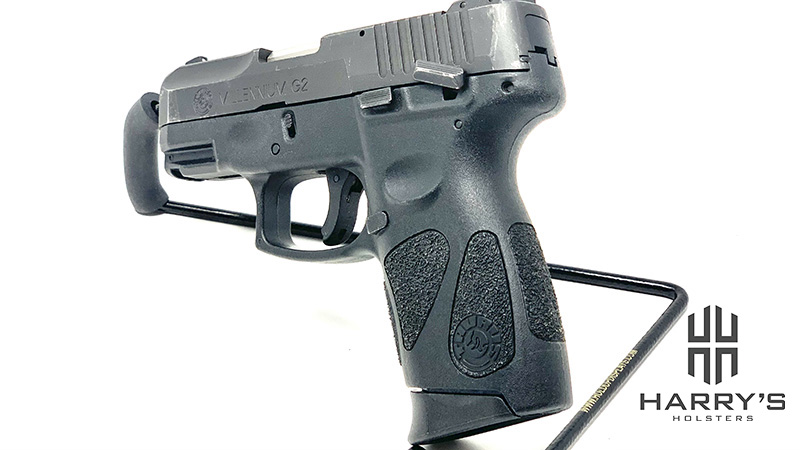 Overall, for the price point of this gun, the ergonomics are really good. One complaint I would have is that the front of the slide has an inset area on the corners, it's almost like a trough on each top corner of the slide. So, there's no way you're going to be using the front of the slide for any serrations just due to the shape- for any manipulations due to the shape.
The rear of the slide is the only place with serrations and serrations on the rear are acceptable for a $250 gun, but they're not going to win any prizes. They go all the way up to the front of the slide and they're angled well so they'll work fine even under wet conditions.
The safety is easy to access and if there's one thing that I could give these gun negative points on, it's the undercut. This undercut will eventually cause a problem for most shooters. Again, Glock which retails at twice the price point also has this problem. But you will develop a Glock knuckle if you shoot this gun a lot and it prevents a lot of newer shooters from getting their grip as high into the tang as would be ideal.
Trigger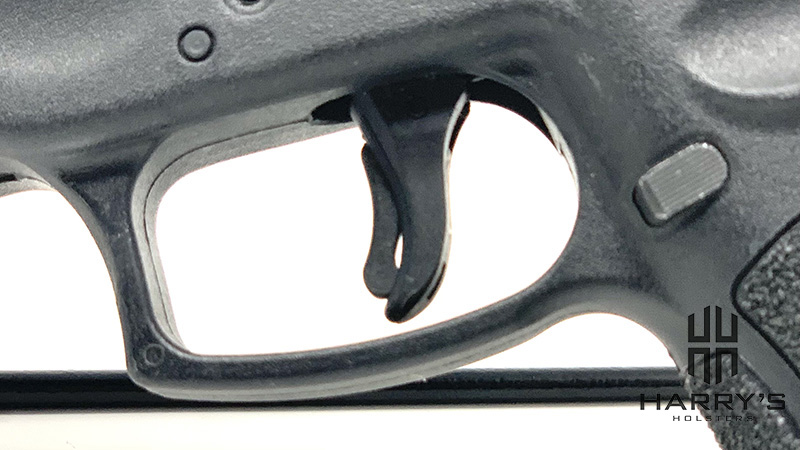 Now the trigger system on the Taurus Millennium G2 is a little bit unique. And the reason for that is it has a restrike capability. So, it's a striker-fired trigger that is technically a double-action single-action style trigger with no decocking feature. So, you can only run this trigger in single-action from the start, but if for some reason your primer fails to ignite the round you can then pull the trigger again in double-action mold and get restrike capability.
So, just for sake of discussing the gun, we're going to start it off covering in a standard format which is single-action. So, if you take the safety off and you run the trigger itself and the trigger also has a drop safe trigger. So, technically you could run this gun without the thumb safety engaged. It has very light take up. And the trigger reach on this is actually quite short the length from the rear of the tang to the trigger wall. So, you have taken up, you have a wall and then you have a springy plasticky feel before it breaks.
This trigger is somewhat like you would expect on a staple gun you would buy at a home hardware store. The reset is quite short and it resets right at a wall where again you press the trigger and it goes for a hard plasticky break. The trigger itself isn't incredibly heavy probably weighing in somewhere at the 5.5-to-6-pound range which is what you would expect of a carry gun.
Now in my opinion the restrike capability is somewhat dubious and you're only going to need it if you're shooting really bad ammo which might be okay for training. But you probably don't want to do that for your defensive ammo. I've shot a lot and I have very rarely had a round not go off and when it does it almost always does not go off on the second time putting it into the chamber and trying to fire it; that's after allowing to make sure that a hang fire would not occur or that the primer was not already nice. Usually, rounds that don't go off just have a bad primer. Now on rimfire guns, this happens a lot, but we're talking about centerfire nine millimeters with the Taurus Millennium G2C.
So, the only real way to describe the restrike trigger is the double-action trigger is creepy and springy it starts off very springy with little bits of creep, and that just kind of continues till the trigger breaks. I don't think you'll ever likely be using that portion of the trigger except for maybe in dry fire, but that's the only way I can describe it.
It is a nice feature for dry fire so you can practice without racking your slide after every pull of the trigger. The feature does make dry fire a lot more efficient and will help you get rid of the bad practice of shooting from the reset.
Maintaining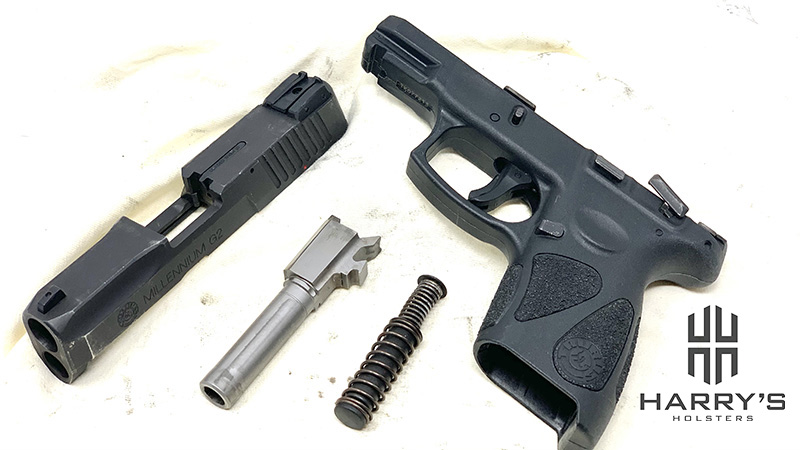 Maintaining the Taurus millennium G2C is really easy. It takes down just like a Glock. It has a trigger at the bottom and you have to take the safety off and decock the striker by pulling the trigger to be able to disassemble the gun. But it comes apart very easily and breaks down just like a Glock from a field strip standpoint.
The gun itself in the rear you likely won't be taking the trigger and all that apart, but you can easily get in there and spray it out with compressed air and CLP or gun lube to get it cleaned up and re-lubricated.
Aesthetics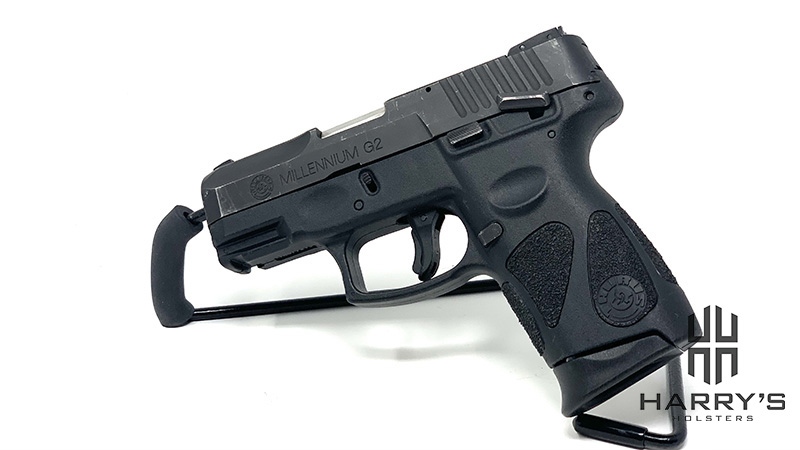 Nobody is ever going to accuse the G2C of being an aesthetically pleasing gun frankly it's just not that good looking. It's very utilitarian looking and not in any sort of stylish way. The gun is not downright ugly, but it's close. It's kind of like a basic stock pickup truck with no acculture mods.
You know what it looks okay but it just kind of blends in. It doesn't stand out in any negative or positive way. Your opinion may vary, but I really don't think this gun is ugly or good looking. And frankly, it's a gun that I don't look at for its looks and think anybody would appreciate it for that. It's a utilitarian tool that will be used as such.
Shooting the Taurus Millennium G2C
Now if you're a new shooter this gun is probably going to have more recoil than you would expect from handling it has quite a heavy slide or at least it kind of appears heavy when you're feeling it and that leads to quite a decent little bit of recoil. The gun tracks okay but is what you can expect from a budget-priced gun.