CZ P09 Holster
Most people use the CZ P09 in applications that dictate an OWB(outside the waistband) holsters like our Contender holster. While the CZ P09 can definitely be run in a competition like USPSA Production or Carry Optics it's more likely you'll be running the gun in a more tactical competition like 2 gun. If you are running a competition like 2 gun you probably won't want to run your holster on a competition style belt but instead a battle belt or heavy gun belt style setup.
On an OWB CZ P09 Holster, a great option to have is a Turbo Prop. The Turbo Prop allows you to fine-tune the retention on your CZ P09 holster without tools. So while you're standing in the USPSA start box getting ready to run the stage you can loosen the retention on your holster to optimize your draw stroke.
If you're setting up your CZ P09 holster for a UPSA competition you'll be best served with something like the Turbo Drop or Boss hanger for a rigid connection between your stiff competition belt and your CZ P09 holster. The Boss Hanger and the Turbo Drop also allow you to adjust the cant on your CZ P09 holster to optimize your draw stroke.
For something like a 2 gun competition or just shooting on the range using an X Lock or Tek Lok to attach your CZ P09 Holster to your belt. Another great option for these uses is to mount a Safariland QLS(Quick Locking System) to your CZ P09, OWB Holster. The QLS is a fork system that has a male fork and a female holder. The female portion is mounted to a belt mount and the male fork is mounted to the CZ P09 holster. You can remove and replace the holster in seconds using the Safariland QLS system.
If you're looking for an OWB holster you can quickly put on in the middle of the night if you need to use your gun for home defense then you may consider adding a paddle to your CZ P09 holster. A paddle holster is also a great option if you're looking for an OWB holster set up to use with your CZ P09 at the range.
The CZ P09 is a very large gun so I would only suggest carrying it in an IWB holster if you're either very large or extremely dedicated. If you're carrying AIWB you want to make sure your CZ P09 IWB holster is well rounded below the trigger guard to avoid discomfort. A must for carrying AIWB with a CZ P09 holster is a wing attached to the holster. The holster wing will help tuck the long CZ P09 grip into your body.
CZ P09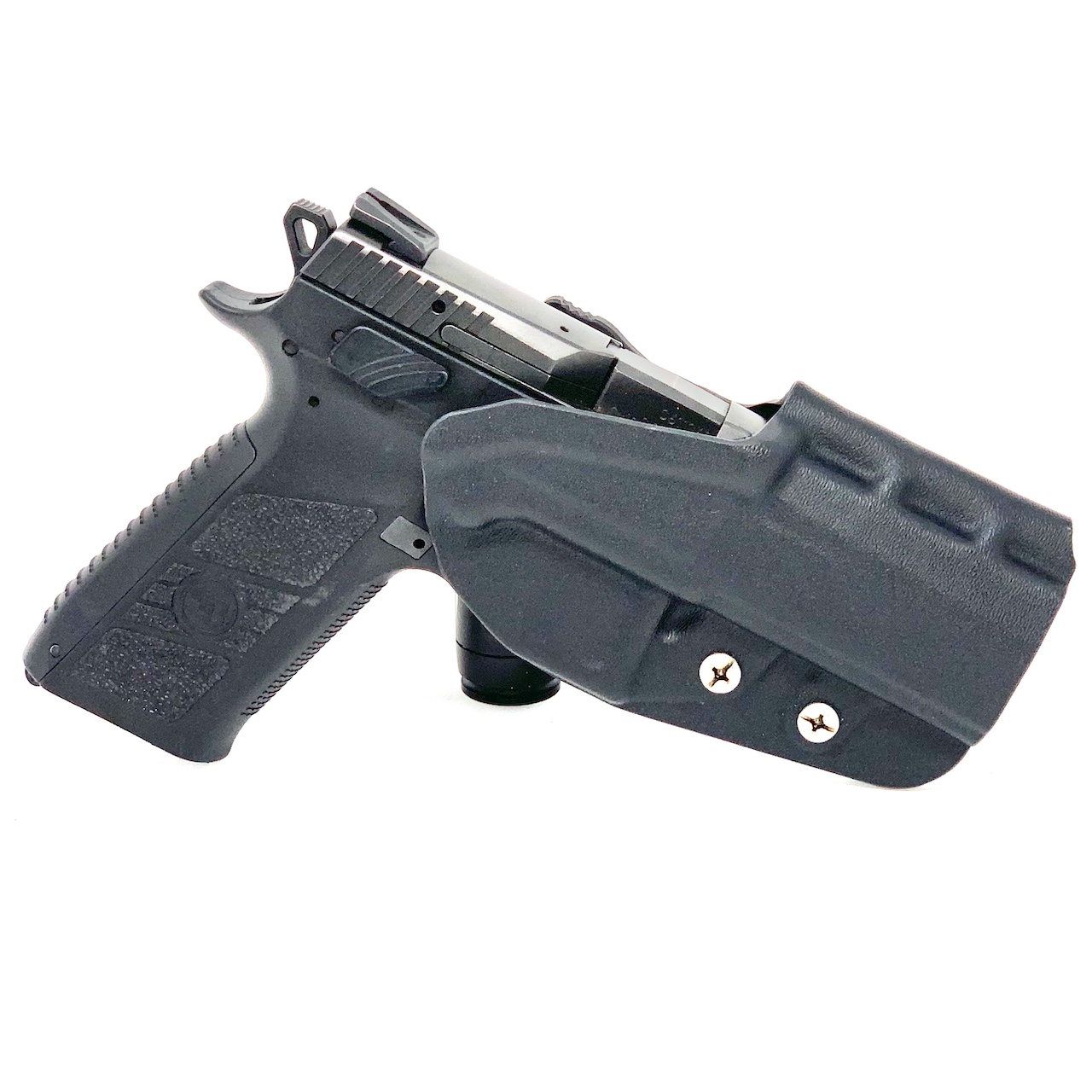 ACTION: DA/SA semiauto
CALIBER: 9mm Luger
MAGAZINE CAPACITY: 19+1
BARREL: 4.54 in.
OAL/HEIGHT/WIDTH: 8.1/5.79/1.46 in.
WEIGHT: 31.0 oz.
CONSTRUCTION: Steel Slide, Polymer Frame
SIGHTS: 3 Dot Steel
TRIGGER: Omega DA/SA
SAFETIES: Interchangeable ambidextrous, Decocker/Manual Safety
PRICE: $530
MANUFACTURER: CZ-USA