Holster Design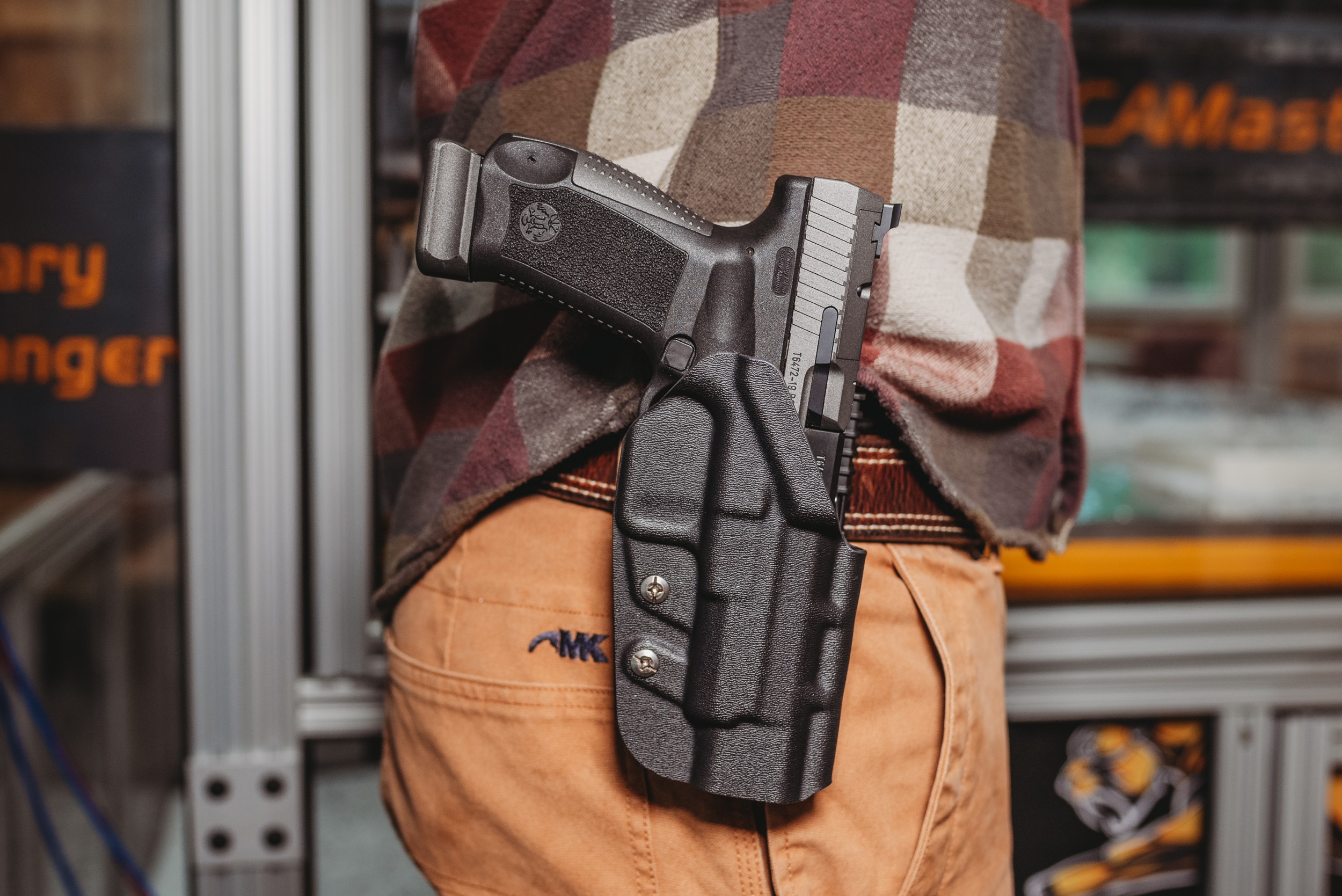 Designing a holster for the Canik TP9SFx is less complicated than a lot of other gun designs. The Canik TP9SFx is a relatively simple design externally and most of the lines and surfaces are parallel to each other as opposed to slightly angled like most guns. We designed our Contender Canik TP9SFx Holster with a wide flared that gradually funnels the gun back into the holster. Most holster makers add a similar feature but instead of designing the mold to gradually guide the gun into the holster, they don't chamfer the block so it's like adding a flat surface at the bottom of a funnel.
When setting up a competition style Canik TP9SFx holster retention is a very important element. If you want the ability to adjust the retention on the fly we design our product so you can add a turbo prop to your Canik TP9SFx holster. The Turbo Prop fits below the trigger guard on your Canik TP9SFx holster and has three props that are much easier to manipulate than the more common thumbscrew most holster manufacturers offer with their competition style Canik TP9SFx holsters.
If you're a hardcore competitor in USPSA Production or Carry Optics Divisions you'll likely want to add a Turbo Drop or Boss hanger to the Contender Canik TP9SFx holster. The Turbo Drop and Boss hanger are incredibly rigid and best pairs with an incredibly stiff competition-style inner/outer belt.
For tactical, range, and less serious competition shooting I would suggest mounting an X lock, Tek Lok or Safariland QLS to your Contender Canik TP9SFx Holster. The X lock and Tek Lok attach directly to the belt and you can take the entire assembly off fairly quickly. The Safariland QLS is a two-piece fork system with male and female components. You mount the male fork directly to your Canik TP9SFx holster and the female portion is mounted to your holster via a compatible belt mount. With the Safariland QLS system, it takes seconds to switch out your Canik TP9SFx holster to another holster and gun setup.
If you're looking for an easy to use a holster that won't get a lot of hard use I would suggest using a paddle on your Canik TP9SFx holster. The paddle we sell with our Canik TP9SFx holster is adjustable for cant so you can dial in your draw stroke. The Canik TP9SFx paddle holster option is the easiest to get on and off and likely best for the casual shooter.
Click here if you want to read our full Canik TP9SFx Review.
Canik TP9SFx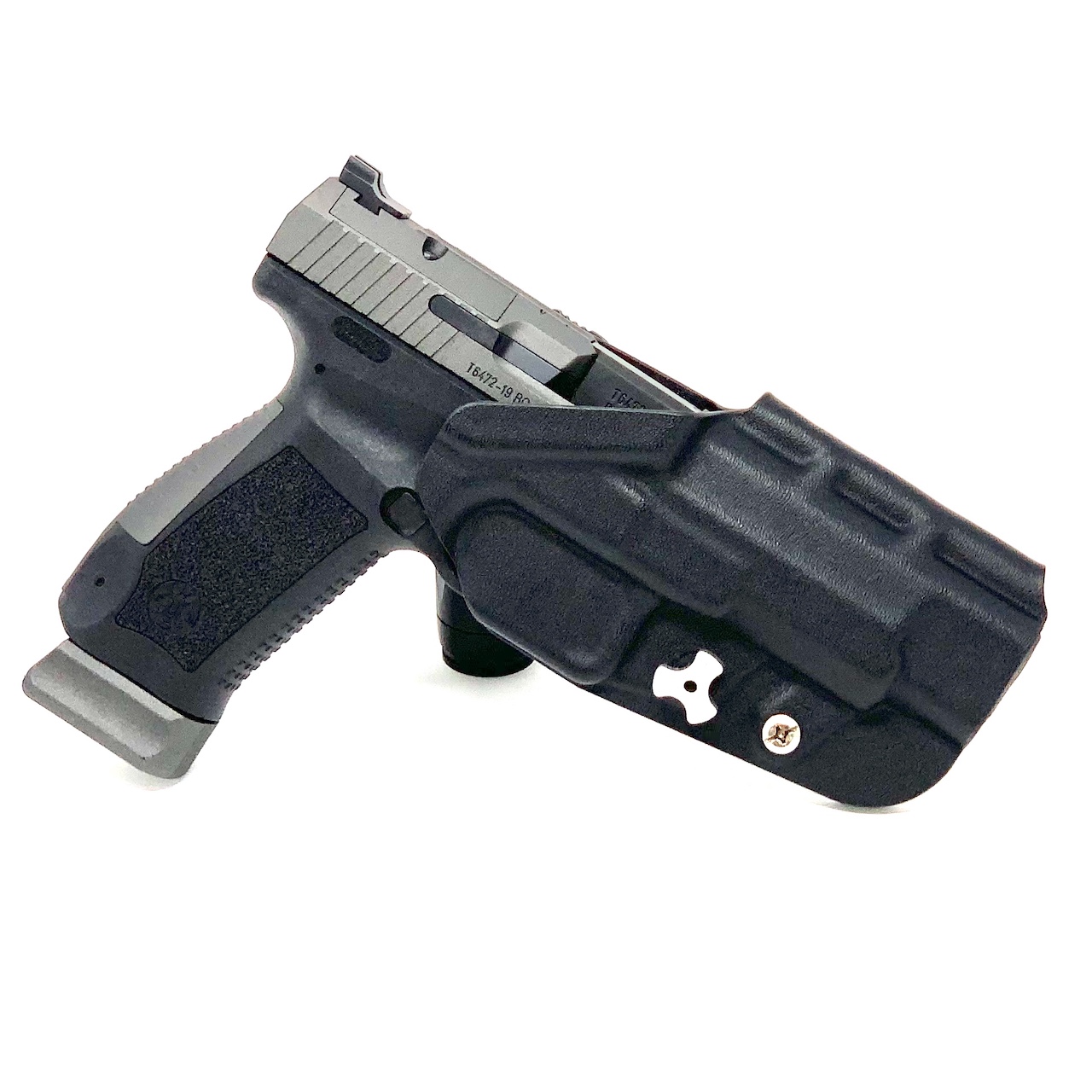 ACTION: Striker Fired
CALIBER: 9mm Luger
MAGAZINE CAPACITY: 20+1
BARREL: 5.2 in.
OAL/HEIGHT/WIDTH: 8.29/6.2/1.38 in.
WEIGHT: 30.2 oz.
CONSTRUCTION: Steel Slide, Polymer Frame
SIGHTS: Warren Tactical Rear with fiber-optic front
TRIGGER: DA pull, 8.75 lb.; SA pull, 3.75 lb. (measured)
PRICE: $549.99
MANUFACTURER: CANIK