Backstory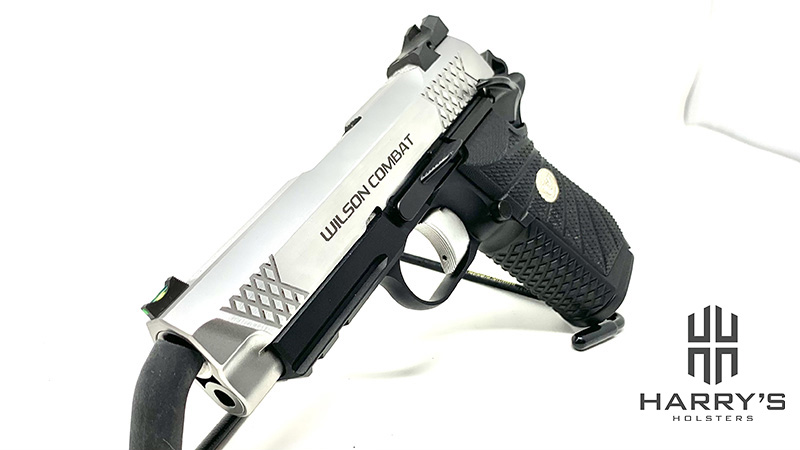 The Wilson Combat EDC X9 was introduced in 2017. Before the EDC X9 Wilson combat had a double stack 1911 style gun called the Spec Ops 9 that was closer in size to a 5-inch government 1911. The Wilson Combat Spec Ops 9 had a polymer frame and never really took off and was discontinued. So in 2017, they introduced the EDC X9 that appeared to be a modernized double stack take on the classic 1911 much different and more proprietary than the 2011 and double stack 1911 offering that previously existed.
Coming in at roughly the size of a Glock 19 with the same capacity and a 1911 style trigger it was a format the general market hadn't seen outside of the incredibly high-end Infinity or SVI custom carry guns that used $100 plus magazines and often required a fair amount of regular tune-ups by a competent gunsmith. Wilson's more proprietary approach with certain components of the gun offered a lot of hope that a truly reliable lower maintenance double stack carry 1911 had hit the market.
With its 7075 aluminum frame and external extractor, the Wilson Combat EDC X9 is both light and reliable enough for concealed carry while offering a 1911 trigger. It can be ordered with or without a light rail so you can add a light or laser if you can find a holster for it. On the surface, it comes across as a refined carry piece that stands out from similar-sized competitors like the Glock 19 and the Sig P320 X Compact. But standing out does come at a $3,000 price tag.
Now let's take a look and see if the Wilson Combat EDC X9 justifies the price tag.
Features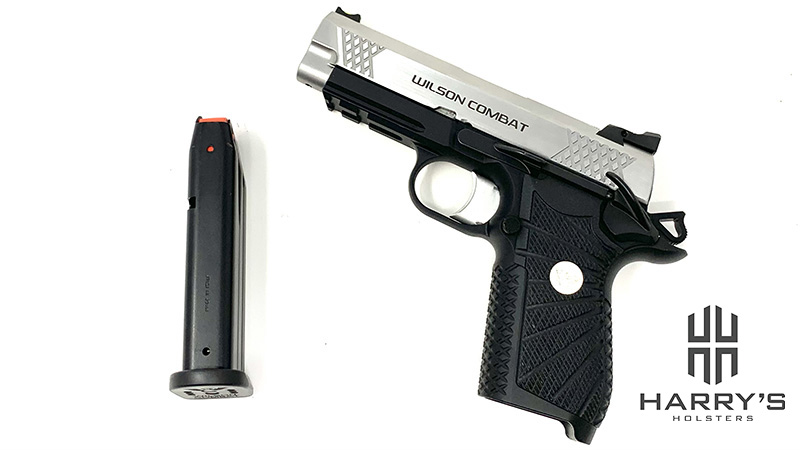 The Wilson Combat EDC X9 comes standard with a double stack 15 round capacity and they offer double stack limited capacity 10 round Wilson Combat Magazines for those in states where full capacity magazines are illegal. The magazine body is based on the same design used for the Walther PPQ series. The magazines from the Walther PPQ will not fit in the Wilson Combat EDC X9 due to the cuts for the magazine catch.
The rumor is the magazine design is so close that you can place Walther PPQ extended base pads on the EDC X9 magazines without issue. Not having the magazine extensions to test it I did try switching out the baseplate from the Walther PPQ M2 magazine to a Wilson Combat EDC X9 magazine and they do fit.
The Wilson Combat EDC X9 magazine has a large cutout to engage the magazine release and the magazine tubes themselves appear identical minus that cutout.
The magazine has chamfers on the top sides of the baseplate allowing your strip the magazine if you have a malfunction. The EDC X9 also has a beveled magazine well and for a gun of its size, it works extremely well.
The metal mags drop free even easier than they insert and almost shoot out of the gun due to pressure from the orange/reddish colored follower. Wilson Combat has outsourced the EDX X9 magazines to Mec Gar who many would consider the best manufacturer of handgun magazines in the world. The magazines come in the limited 10 round capacity, standard 15 rounds, and an 18 round magazine with a base plate that comes up the sides to prevent over-insertion.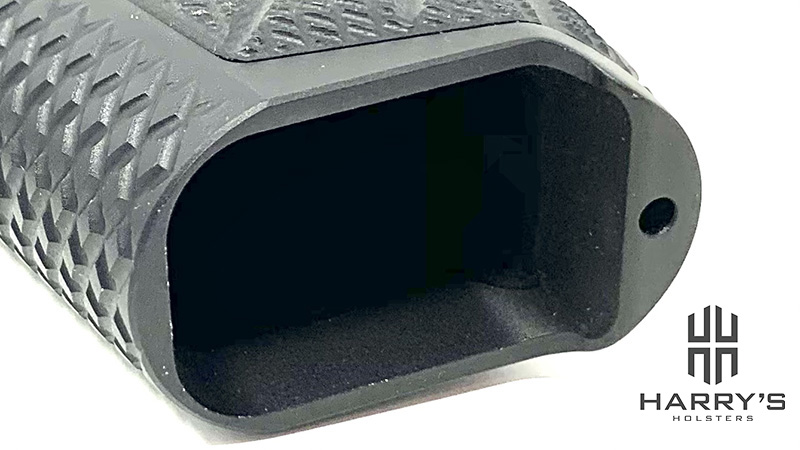 The good news is despite the hefty price tag of the gun, magazines are a relatively reasonable price. The 15 and 10 round magazines come in at $42.00 each and the 18 round EDC X9 Magazines cost $44.00 at the time this article was published. Considering that FN509, FN FNS9, Sig P320, P365, HK P30/VP9, HK USP, HK P2000, and Walther PPQ magazines all come in around the same price even though the guns cost a quarter of what the Wilson Combat EDC X9 costs. The price of the magazines is quite fair considering the lower production numbers of the gun.
Most higher-end 2011 guns like Staccato and Infinity range from $70.00-$125.00 per magazine depending on the magazine. 2011 magazines also are historically known for being finicky and often needing tuning while the mag body the EDC X9 uses is an updated design that is more reliable.
In my opinion, Wilson Combat made a good decision going with a newer magazine design instead of trying to make something work in the 2011 format although it probably cost them a lot more design time in the short term.
Grip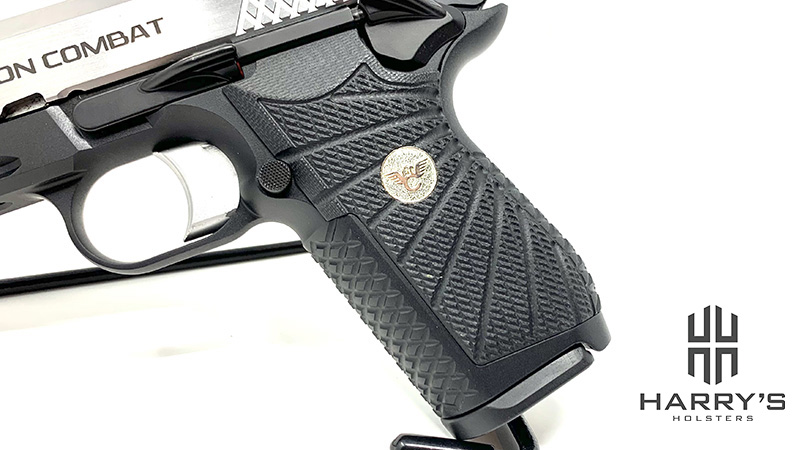 The Grip on the Wilson Combat EDC X9 can be ordered with either a small or large backstrap/beavertail assembly. This allows you some customization for your hand size.
The gun has VZ grip panels made for Wilson Combat and is proprietary to the EDC X9. They're available in multiple colors but just one size.
Wilson Combat also offers multiple trigger length options allowing the ergonomics of the EDC X9 to be further tailored to the shooter(more on this later).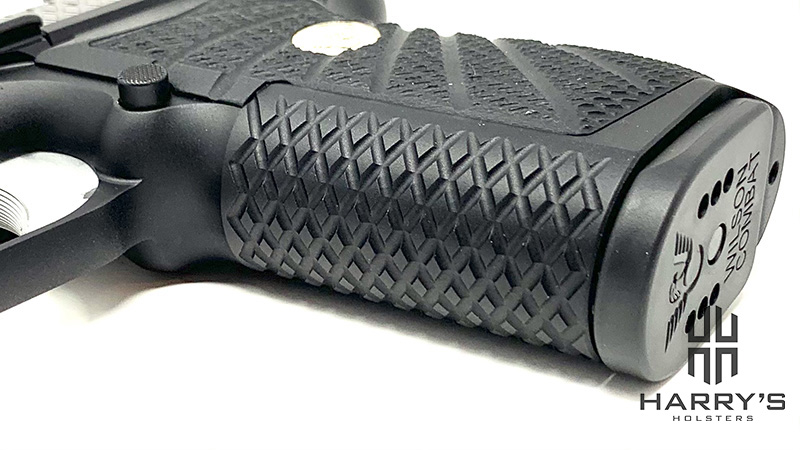 Texturing
Wilson uses their X-TAC texturing on both the front strap and backstrap. The X-TAC texturing is really deep while also being rounded so it's not crazy aggressive but it gives you a good hold on the gun even when your hands are wet. It's a nice compromise between a grip that's super aggressive but will tear up your hands and a texture that looks good but will slip around.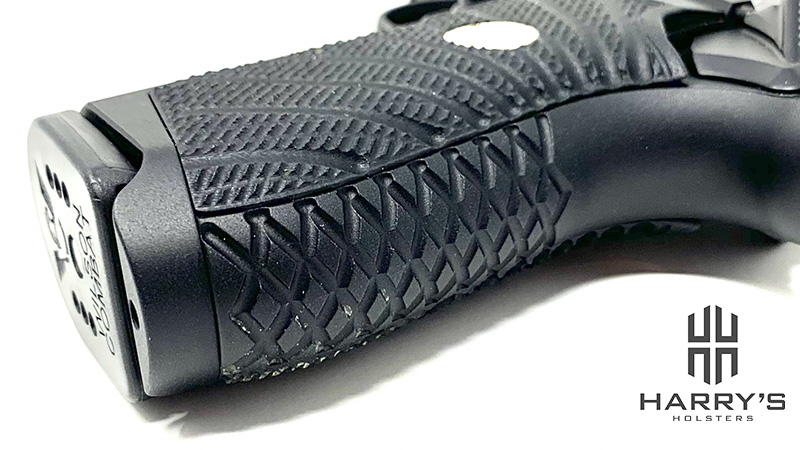 The VZ Grip panels feature the Wilson Combat aggressive starburst texturing. These grips are more aggressive than X-TAC texturing but with wear, it's positioned on the gun it only touches the parts of your hands that won't move under recoil so it won't tear up your hands when shooting 100's of rounds in a single range session.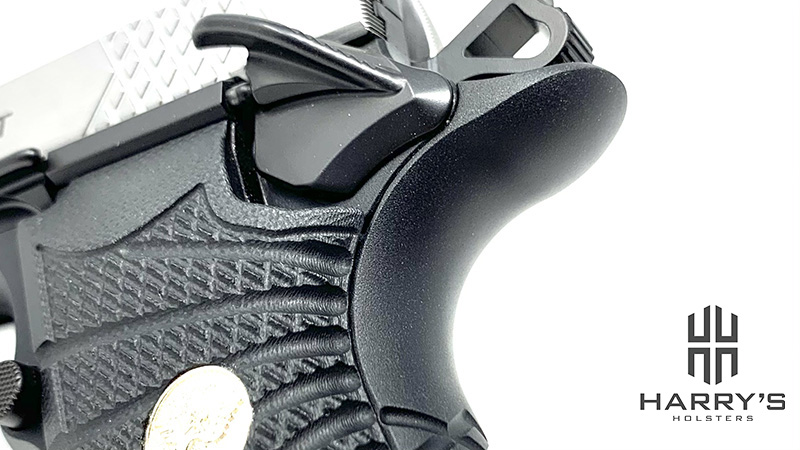 The grip on this gun can only be described as slightly chubby. The gun really fills your hand and touches all parts of your palm. If you like your hand to feel every part of the gun then you'll fall in love with this grip. If you have really small hands or like a thinner feeling gun where you are mostly feeling the front strap and backstrap then the Wilson Combat EDC X9 likely won't be your cup of tea.
As far as grip length it's roughly the length of a Glock 19 grip. So expect your hand to grab a similar amount of real estate on the EDC X9 as it would on a Glock 19.
Sights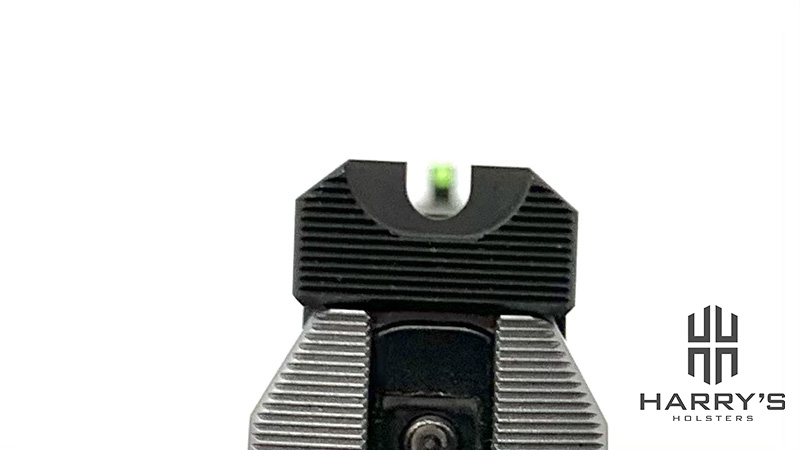 The Wilson Combat EDC X9 has a proprietary front sight cut so all the options you're going to have come directly from Wilson Combat. I do wish Wilson Combat had used a more common sight cut like a Novak 1911, Sig, or Glock cut to take advantage of the vast aftermarket offering that supported those cuts.
That complaint aside the EDC X9 does have quite a few sight options directly from Wilson Combat. I honestly can't think of another company that offers as many sight offerings for a proprietary cut.
For the front sights, they offer plain tritium front, Ameriglo tritium front night sights with an orange ring around the tritium vial as well as both green and red fiber optic and gold bead front sights. All of these sights are .125 wide. I would like to see Wilson Combat offer a plain black front target sight(my personal preference) as well offering in .115 width for the fiber optic sights.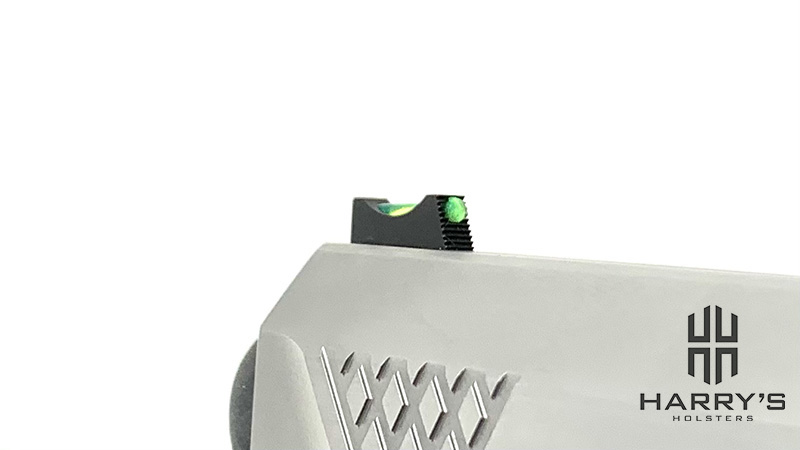 The current offerings are just a tad wide for my taste and this is where using a common front sight cut would help the consumer tailor the Wilson EDC X9 to exactly what they would like.
The rear sight is an elevation adjustable rear that is built more like a battle sight than a target sight. The elevation can be adjusted by a screw that sits in the notch of the sight. If you need to adjust the windage on the sight you'll need to drift the sight. There are also 2 set screws that hold the sight in place.
I really can't emphasize enough how sturdy the adjustable rear sight is on the Wilson Combat EDC X9. The rear sight has horizontal 40 LPI(Lines per inch) serrations matching the 40LPI serrations on the back of the slide which will help prevent glare.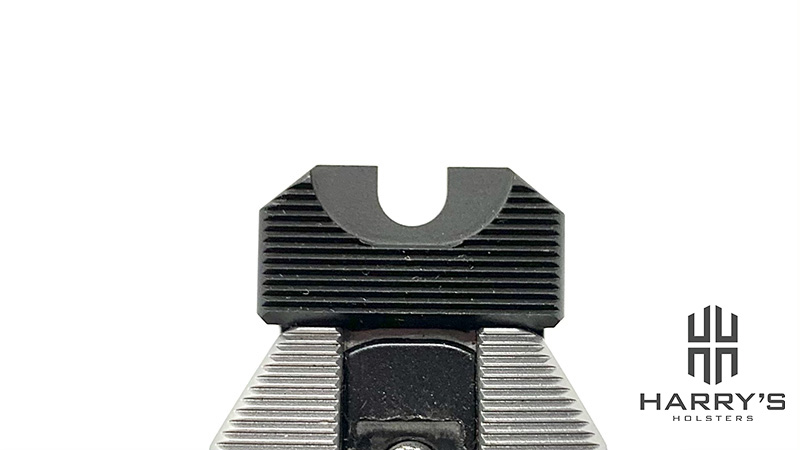 The rear sight also features a U notch which in theory is quicker to align the front sight than a traditional square notch. It would be nice if Wilson offered the square notch as well but the U notch is more than acceptable.
Sights systems really are personal preference and Wilson Combat has done a great job making sure most EDC X9 buyers have an option they'll like but going with a common sight cut would have ensured that virtually everyone could have installed their perfect sighting option on their Wilson Combat EDC X9.
Wilson Combat EDC X9 Optics
If you're looking for a more modern approach Wilson Combat also offers the ability to mount a slide mounted optic with the Wilson Combat True Zero System. The Wilson Combat True Zero System is something you'll have to add when ordering your EDC X9 directly from Wilson or you can send it to them to add to the gun.
The Wilson Combat True Zero System uses a plate system so you can choose from multiple optics as long as you have a plate for that optic. Currently, the Wilson Combat True Zero system has plates for the Aimpoint Acro, Leupold DeltaPoint Pro, and the Trijicon RMR/SRO. I assume the Trijicon plate will also fit the Holosun optics like the Holosun 507v2 that are designed to work with the RMR mounting pattern.
Wilson Combat EDC X9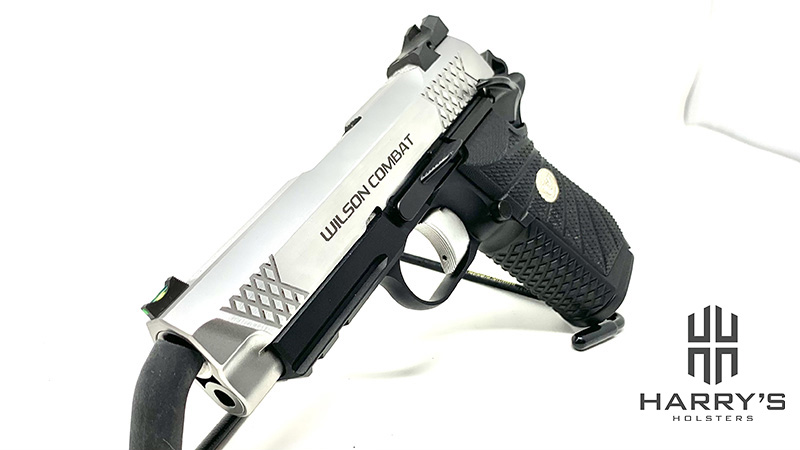 ACTION: SA Semiauto
CALIBER: 9mm Luger
MAGAZINE CAPACITY: 15+1
BARREL: 4 in.
OAL/HEIGHT/WIDTH: 7.4/5.25/1.4 in.
WEIGHT: 29 oz.
CONSTRUCTION: Stainless steel slide, alloy frame
GRIPS: G10
SIGHTS: Steel; adjustable rear, fiber-optic front
TRIGGER:  Single Action series 70
SAFETIES: ambidextrous manual thumb
PRICE: $2,895
MANUFACTURER: Wilson Combat
Controls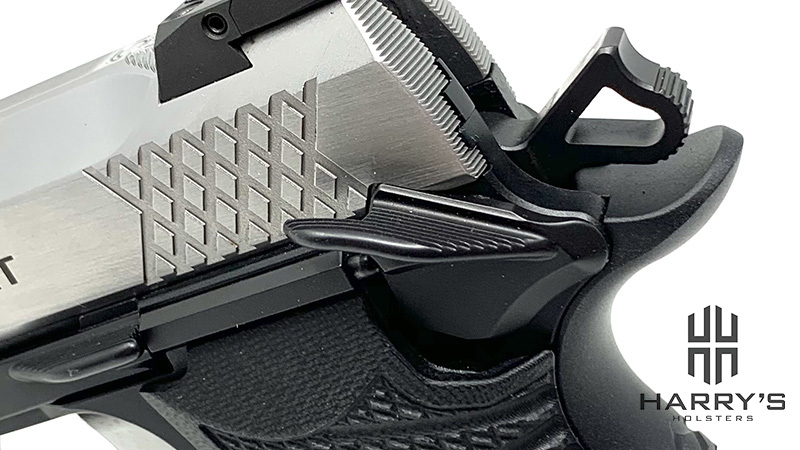 Safety
You can order the EDC X9 with either a left side or ambidextrous safety. I ordered my gun with ambidextrous safety. The safety is really ergonomic and doesn't create any discomfort on the interior of the primary hand's thumb when riding the safety while shooting.
Wilson does a great job of rounding off any potentially sharp areas preventing the pain that many 1911 style safeties can cause in that area. The safety is very positive when engaging and disengaging, frankly, that part is perfectly tuned.
One complaint is sometimes when gripping the gun as a right-handed shooter the skin of my palm right below the index finger's knuckle will get pinched when disengaging the safety.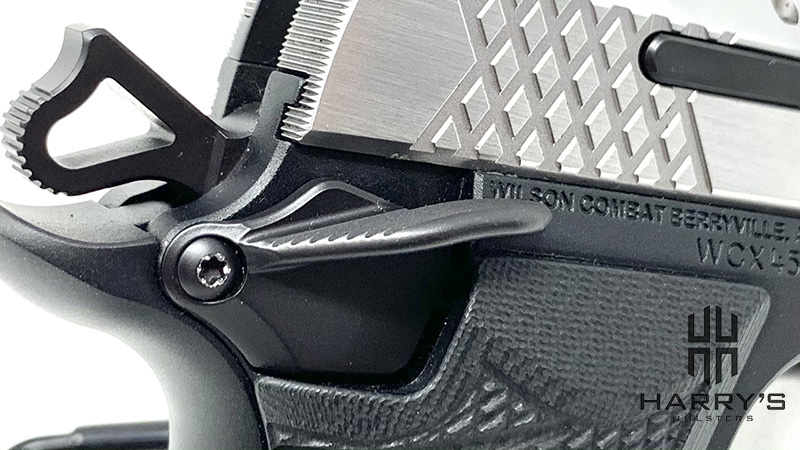 I don't think that is something that would happen with most shooters and just ones with almost identical hands to mine. Had I chosen the non-ambi safety this wouldn't be an issue at all. And can't recreate when shooting with my left hand as the primary hand so I suspect this is an oddity that won't affect many.
Despite being based off the 1911 and using a 1911 style trigger the EDC X9 does not have a grip safety so you don't have to worry about the gun not going off if you have a less than ideal grip or hands that don't perfectly conform to disengaging a grip safety.
Slide Stop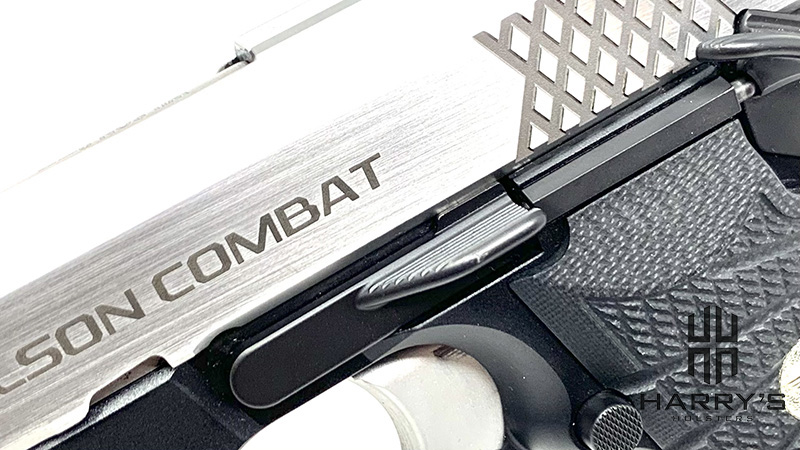 The slide stop on the EDC X9 also functions as a takedown lever just like the 1911 it was based on. With the smaller format of the gun Wilson did seem to move a little more to the rear than a standard 1911 but it's still not easy to press down with your primary right-hand thumb on a reload if you have average sized male hands.
If you're a lefty you'll find it easy to drop with your left-hand index finger.
The EDC X9's safety is a large wide well-rounded shelf that is easy to find with your left-hand thumb when using the Vicker's method of dropping the slide with your support hand thumb on a slide lock reload.
Magazine Release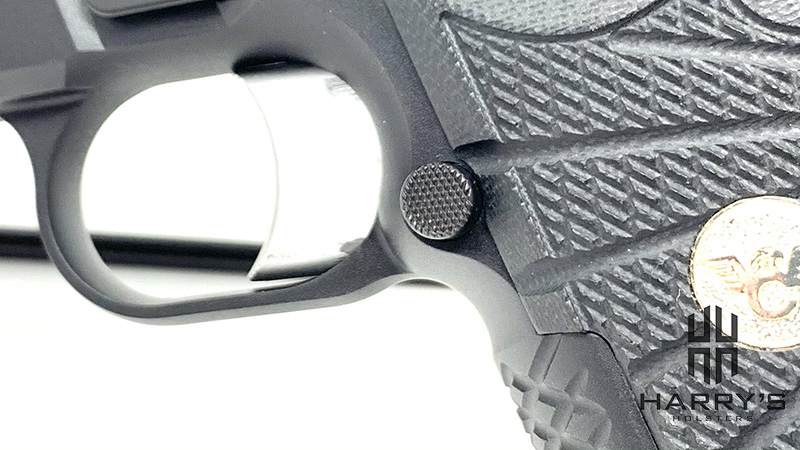 The magazine release on the EDC X9 works. When you press it the mag falls out and I've never accidentally pressed it dropping a magazine when I didn't want to. It just works.
It doesn't stand out in any way positively or negatively. This is one of those parts that simplicity is appreciated and Wilson Combat took the right approach of not trying to overemphasize this area of the gun and just focusing on function. It is set up for a right-hand shooter only. So if you're a lefty you'll have to adapt to releasing the magazine with a method other than using your primary thumb. I can just reach the EDC X9's magazine release without having to break my grip. Wilson Combat designed the EDC X9 to really fill the hand and that increased the distance your thumb has to move to reach the magazine release. Making it smaller might help some.
Trigger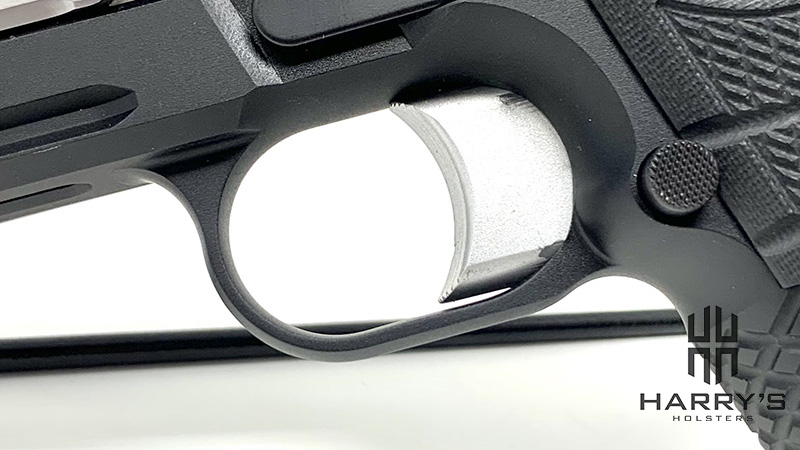 Wilson Combat went with a series 70 trigger on the EDC X9 so there is not any sort of firing pin block in the system so if you drop it off a building it likely won't be as drop safe as a series 80 1911 or a stock Glock. As mentioned earlier one thing missing from the system is grip safety. Personally, I think grips safeties are more of a liability than an asset in many guns so I don't miss it in the Wilson Combat EDC X9.
Trigger Reach
You can order your EDC X9 from Wilson Combat with a short, medium, or long trigger. I personally went with the long trigger and small grip due to the input from a shooter on the Wilson Combat team who was able to examine my grip when placing my order at the 2018 NRA show. I would suggest calling Wilson Combat and getting their input but they have 6 different potential combinations of backstraps and triggers so you'll likely find one that works for you.
Using this system allows you to get the perfect trigger reach which is very important when it comes to shooting the gun well. If the length of pull on your trigger fits your hand perfectly you don't have to work as hard to break the trigger without moving the rest of the gun. The adaptability of the trigger is honestly my favorite feature of the gun. If the setup you order from Wilson Combat or buy off the shelf in a gun store doesn't work for you then you can order a different size EDC X9 trigger from Wilson Combat.
Trigger Pull
The Wilson Combat EDC X9 Trigger is pretty good but not earth-shattering considering the price point of the gun. The trigger on my sample was a little bit of extremely light takeup before hitting a hard wall. Once you hit the wall there will be a slight bit of movement and before the trigger breaks, it feels almost like a carrot snapping with just a little bit of overtravel. The reset is short but doesn't have a positive spring action. The trigger resets right at the wall and is pretty similar or slightly better than most better 1911 triggers I've handled.
It's definitely on the 4.5-pound end of Wilson Combat's advertised 3.5-4.5 pound trigger. Trigger weight really doesn't mean as much as the actual feel of the trigger. A heavier 1911 trigger that's really clean can feel much lighter than it is and light but sloppy 1911 trigger can feel a lot heavier. It's a good trigger but it's a good trigger for an $1800 gun and an acceptable trigger for a $3000 gun. When my gun finally arrived this was honestly the biggest downside. The gun has a little over 1200 rounds through it and although not tracked I would venture to guess a similar amount of dry fire. It still hasn't broken in much beyond how it came from the factory.
The trade show EDC X9 sample I handled had a trigger that was completely unreal. There was a light crisp short wall and it might have been the best 1911 style trigger I've ever felt. It would be easy to assume Wilson had stacked the deck for the public event but from handling their 1911s at the same booth I believe that Wilson Combat EDC X9 was likely a shooter demo model that also got handled a lot more frequently at the shows. There was one EDC X9 and probably 20 or more 1911s so the EDC X9 always had a line of people waiting to handle it while most of the 1911s did not.
Overall Ergonomics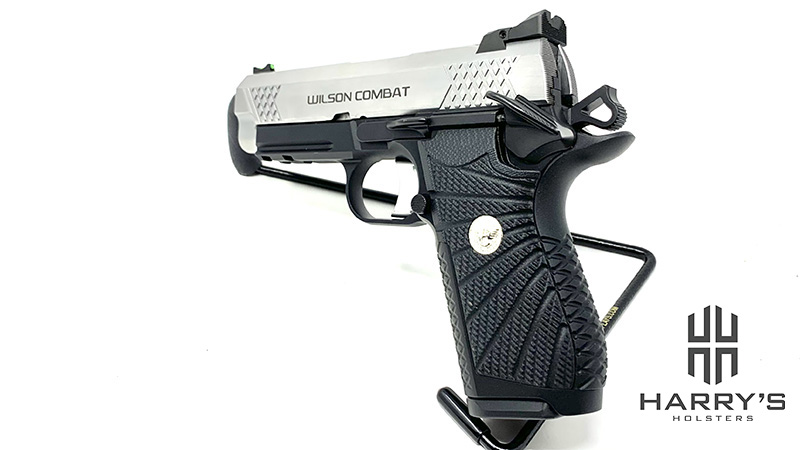 The ability to customize the back strap size and trigger reach to your length of pull is a major upside of the gun. The gun does feel a little thick for my preferences but that's a preference, not a complaint. The texturing on the grip is great and will work for everyone but the people that don't have extremely soft hands to those that have heavy calluses. My biggest complaint about the gun is the size of the front and rear serrations on the slide. Wilson Combat also went with the X-TAC texturing and it's very effective in that application but they just didn't give you enough of it. If they had the gun would have taken a large aesthetic hit and would have looked weird. They probably made the right business decision going the route they did but at the end of the day, the gun looks over function in that area.
Aftermarket
There really isn't a mentionable aftermarket built up around the EDC X9. Given the relatively small production numbers, I don't expect we'll see an aftermarket anytime soon. Wilson combat does offer most of what people would want to see from the aftermarket and they are a well-established company so support for the gun isn't a huge concern for me.
The gun also uses standard 1911 parts for the recoil spring, guide rod, spring plug, firing pin, firing pin stop, hammer, sear, disconnector, magazine catch spring, magazine catch lock, and plunger spring. So most of your consumable parts can be sourced from a variety of quality sources.
Aesthetics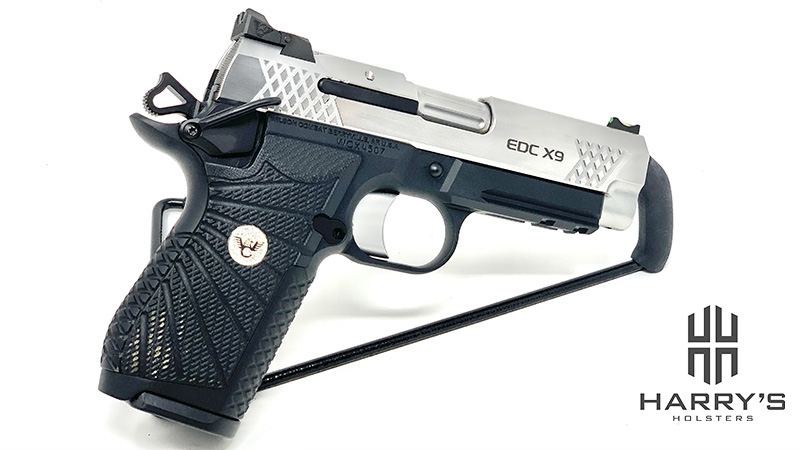 In my opinion, the EDC X9 is a good looking gun. If I were to order the gun again I wouldn't have gone with the polished stainless slide. Overall I think my Wilson Combat EDC X9 is a good looking gun but one of the worst looking EDC X9s I've seen. If I were to do it over again I'd get an entirely black gun with the Black Cherry Grips. Unless someone knows about the Wilson Combat EDC X9 the gun won't jump out at them so if you're looking for a gun that immediately turns heads this isn't it. But it does have an understated non-traditional modern elegance.
Shooting
Loading the gun is very easy and the slide seems slightly easier to rack than most similar-sized 9mm pistols and I attribute that to the smooth action. The Wilson Combat EDC X9 is an extremely soft shooter. If it had a smaller grip I would suggest it for small-statured new shooters who have graduated past a 22. It just shoots that soft. There is no pain or discomfort when shooting the gun. It just shoots and it shoots really well. My Wilson Combat EDC X9 has a little over 1k round through it and there haven't been any issues. I've seen reports of EDC X9s with thousands of rounds without issue and mine hasn't been cleaned and shows no signs of being sluggish or slowing down.
Does it shoot better than other guns out there? Well, this is the part that's hard to write about. I shoot my lightly modified Glock 19s better than the Wilson Combat EDC X9. But you have to take into account that I have thousands and thousands of rounds through the Glock 19 platform and likely 100 times the amount of dry fire reps. If I were to commit myself to shoot the EDC X9 I have no doubt that I would see an improvement in my shooting due to the better trigger and improved recoil impulse. At the end of the day if you're really well trained on a specific platform it's unlikely switching to a more refined platform will get you an immediate improvement in your abilities. But over time once you've gotten used to the platform you'll start to see the results.
So is the EDC X9 worth it?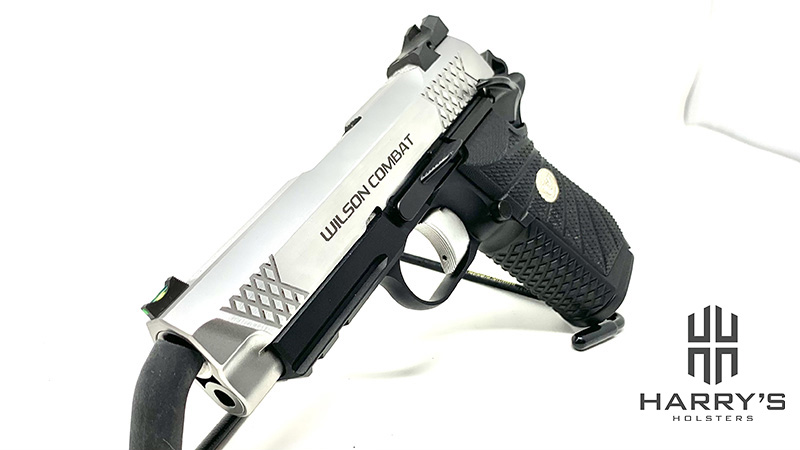 So is the $3,000.00 price tag worth it? The Wilson Combat EDC X9 sells for approximately $3k directly from Wilson Combat but I have seen them as low as $2400 at a few dealers. At $3k it's a tough pill to swallow and I'm not sure it offers the value I'd like to see. When it came out the only real competition was completely custom 2011s from companies like infinities that often have a lead time that exceeds Wilson Combat's lead times and usually would cost at least 2x what the EDC X9 costs while using a less reliably and more expensive magazine design. Now Staccato(Formerly STI) has the Staccato C2 that is $2k and the Staccato C2 Duo which is cut for optics and comes in at $2500. The Staccato uses a historically(there have been improvements) less reliable magazine design than the Wilson Combat EDC X9.
I don't have much time with the Staccato C2 but it is less refined than the Wilson Combat EDC X9 and slightly larger. That said I'd don't think the Wilson Combat offers a clear $1000 advantage over the Staccato. If you can find a Wilson Combat EDC X9 for $2400(even then you might have to change the backstrap and trigger) then it's a solid value but at MSRP it's not a clear value and if you're in the market I'd suggest handling one before buying to make sure it's worth it to you. The law of diminishing returns does play a role.
That said I do plan to buy another Wilson Combat EDC X9 when I see it for a good price and send it to Wilson to have the True Zero System added for a Trijicon RMR. The size is just short of perfect for carrying. My biggest complaint is the girth of the grip. The Wilson Combat EDC X9 is currently the best-concealed carry option for my needs in a single action double stack 1911 format. Your mileage may vary.