Holster Design
The CZ Shadow 2 is a fairly heavy gun weighing in at 46.5 ounces so you need a heavier Kydex like .093 to handle the weight. The metal trigger guards can sometimes be a challenge to get perfect retention with holsters due to their sharp edges and thin profiles. Luckily it's not hard to get great retention in a CZ Shadow 2 Holster due to the reasonably thick and well-rounded trigger guard. On our Contender CZ Shadow 2 Holster we made sure it's compatible with a turboprop which is an improved version of a thumbscrew. The Turbo Prop allows you to fine-tune the retention on the CZ Shadow 2 holster from very light to extremely secure with just a turn of your fingers.
If you get your CZ Shadow 2 milled for a slide mounted optic the Trijicon SRO or Leupold Delta Point Pro or own a CZ Shadow 2 Optic Ready model you'll need to make sure your holster will accommodate the optic. Most CZ Shadow 2 Competition holsters will accommodate an optic as their outline is cut to just shy of one-half inch below the ejection port in accordance with USPSA holster regulations. But this is still something you'll want to verify unless you order a Contender holster for your CZ Shadow 2 Optics Ready.
The CZ Shadow 2 isn't only a wonder competition pistol but it's also a great gun for plinking on the range. What you're using the gun for will dictate how you want to set up your CZ Shadow 2 holster. We've designed our Contender CZ Shadow 2 Holster so you can set it up from Competition, serious range use, or casual plinking. If you are a serious competitor you'll likely want to set up the Contender CZ Shadow Holster with a competition hanger like the BOSS Hanger or our preferred competition hanger the Turbo Drop.
For serious range use or more casual competition events, something like the Blacktech Tek Lok or an X Lock is an excellent option for your CZ Shadow 2 holster. This style of belt attachment will keep the holster sturdy but sits closer to your beltline than a true competition style holster mounts like the Boss Hanger and the Turbo Drop. Another great option if you plan to switch out guns and holsters often while using the range belt is to add a Safariland QLS hanger to your Contender Shadow 2 Holster. This will allow you to switch out guns and holsters in seconds while still having a very battle belt setup.
If you're using the Shadow 2 as a range gun and you're looking for a holster setup that is easy to put on and take off you'll likely be best served by mounting a paddle to your CZ Shadow Holster.
CZ Shadow 2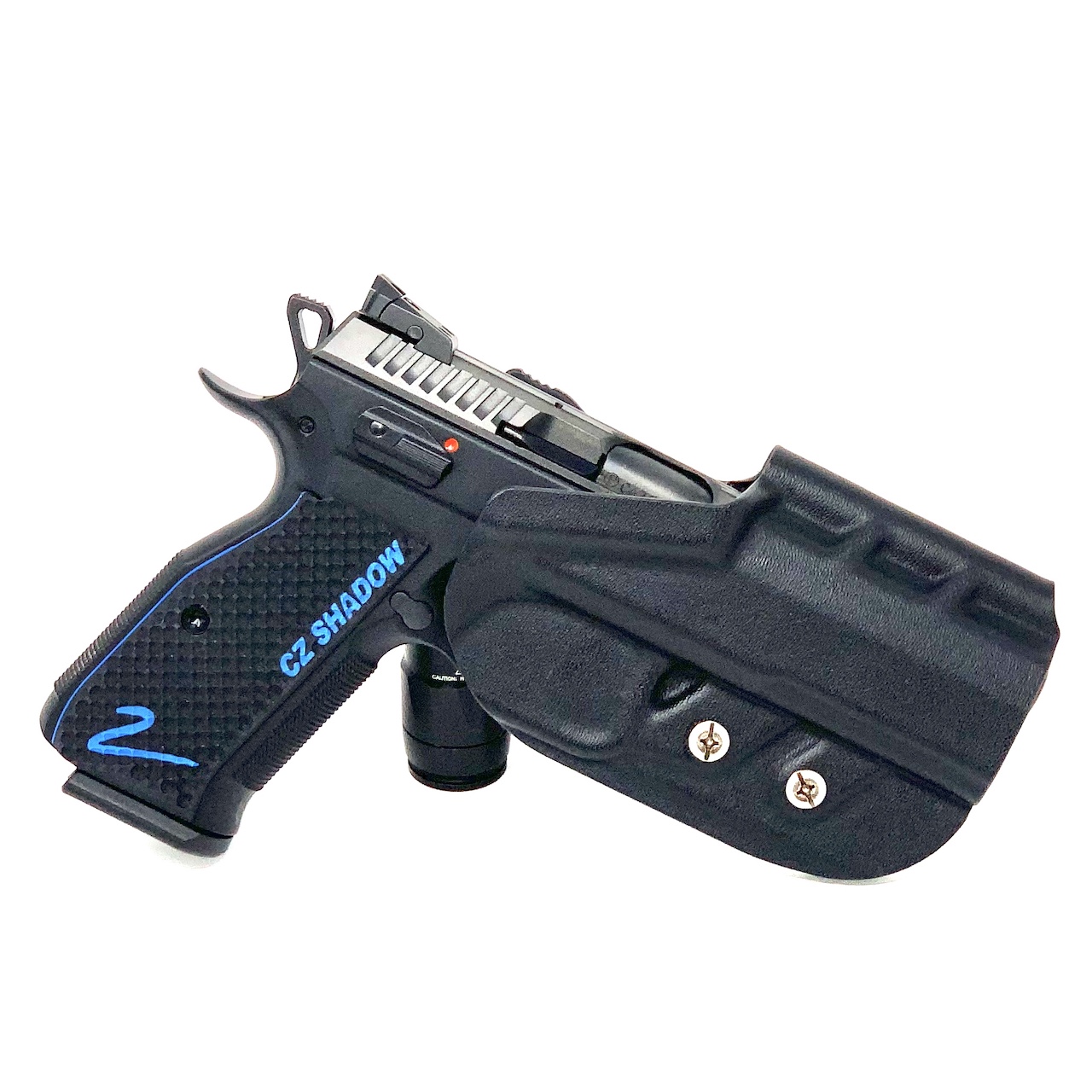 ACTION: DA/SA semiauto
CALIBER: 9mm Luger
MAGAZINE CAPACITY: 17+1
BARREL: 4.89 in.
OAL/HEIGHT/WIDTH: 8.5/5.75/1.3 in.
WEIGHT: 46.5 oz.
CONSTRUCTION: Black-Nitride steel slide, Polycoated steel frame (as tested)
GRIPS: Blue Aluminum (as tested)
SIGHTS: Steel; adjustable rear, fiber-optic front
TRIGGER: DA pull, 8.75 lb.; SA pull, 3.75 lb. (measured)
SAFETIES: ambidextrous manual thumb
PRICE: $1,299
MANUFACTURER: CZ-USA